OWERRI SHOW OF SHAME (THE SHUT OUT OF IGBO FIRST ELEVEN)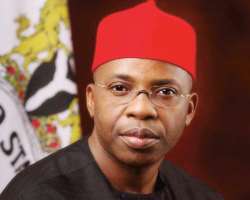 PHOTO: IMO STATE GOVERNOR IKEDI OHAKIM.
For some time now, Owerri, the capital of Imo State has been in the news for the wrong reasons. If it is not for flogging somebody in the government house for exercising his fundamental human rights, then it would be arrest, naked and detaining a priest in the same government house. However, on Monday September 27, 2010, the town pushed itself deeper into the hall of infamy with the disruption of a summit organized by illustrious Igbo sons and daughters to deliberate on the way forward for the Igbo nation.
The action which no doubt was orchestrated by gangsters who want to save their political career in pretence for working for their master is a very big slap on the face of the entire Igbo nation because it was our very first eleven that was humiliated on that day. But we still have cause to rejoice because the gangsters only stopped at the disruption of the summit rather than rounding these illustrious sons and daughters up and taking them to the usual place to give them the priest treatment because these desperadoes are ready to go to any length to prove to their master that they are loyal and supportive of his cause and also ready to remove any thing that may stand against his achieving his ambition.
However, to any keen observer of the intrigues, deceit, sycophancy and maneuvering which have characterized politics in Nigeria, nothing new is happening because we have seen all that before.
These sycophants did it for late General Sani Abacha. They also did the same for the late Umaru Musa Yar'Adua and would still do it for the other occupants of Aso Rock in the future. It is a merry –go-round that we have been saddled with and at the bottom of all this is self interest and not that of the man at the helm of affairs they claim to be championing his cause, let alone the country.
To prove beyond every reasonable doubt that we have been there before, page 49 of my book, "The Many Sins of PDP (Why The Peoples Democratic Party Does Not Deserve To Rule Nigeria), which was published in 2007 read in part, "I am pained that the cabal that rail road Yar'Adua into the presidential race has needlessly exposed a fine gentle man to public ridicule. This is a man who had decided to quietly serve the people of Katsina. Unlike his colleagues who see the position of governor as an opportunity to junket round the world and live ostentatiously, he had remained out of the public eye-which explains why he is not well known outside his home state. But this quiet life has been shattered by a self serving cabal and Yar'Adua's life will never be the same again. Talk of people destroying people's lives!
Conscious of his limitations, Yar'Adua had decided to concentrate on his state so that he could have the time to manage his falling health which has seen him in and out of hospital on several occasions since he became governor in 1999.Aware of his peculiar circumstances, he had decided to look the other way when his colleagues were showing interest to run for the office of the president. He knew that Nigeria is a very complex country and that if you are not strong both within and without, you cannot successfully rule it. But his march towards peaceful retirement from politics has been truncated by the selfish ambition of a cabal that saw him as a lame duck. That was the unstated reason why the cabal had to re-write the party's constitution to give the Chairman, Board of Trustee, governmental powers.
It is apparent that Yar'Adua's sudden entry into the presidential race was not based on the vision he has for the country. From all indications he has none; if he did, he would have voluntarily gone to pick the party's nomination form when others where picking their own. It was also not based on the love which the cabal has for him because as a patient, he is not fit to preside over a volcano like Nigeria, as that could further complicate his health situation. The whole arrangement was clearly based on selfish ambition."
In page 50 of the same book I also gave a lifeline which was not obeyed by the late president and it stated thus.
"But I believe that Yar'Adua still has the opportunity to get away from this game of deceit and live the quiet and peaceful post-governorship life which he had earlier designed for himself. After all, there is a saying that you can take a horse to the stream but you cannot force it to drink. Right now the cabal has taken the horse to the stream but the horse may yet refuse to take a drink."
As I said earlier, we are not witnessing anything new in Nigeria. Why I decided to cite this page of the book was because of what one of the so-called power brokers in Bayelsa said about how they compelled Jonathan to enter the presidential race. According to him, initially, the president was not interested in entering the race (may be he wanted to respect the zoning agreement that he signed in 2002) but they had to tell him to choose between his life and running for the office of the president. He said that the issue was not really about Jonathan but that this is an opportunity that the Ijaw people in particular and South South in general have got and as such it must not be wasted. The power broker added that whether Jonathan likes it or not he must contest. And to convince the president that it is really the wishes of the people for him to contest, a lot of deceit and sycophancy have been going on. For instance, recently, I was in a gathering in Lagos with Mike Akhigbe when a retired rear admiral walked in and saw him.
The rear admiral was surprised seeing Akhigbe in Lagos and he asked him what he was doing in Lagos while he was supposed to be chairing a meeting of South South leaders and another geo-political zone in Port Harcourt.
Akhigbe replied that he was not aware of any meeting, let alone been the chairman. However, what Akhigbe did not know was that a group had taken a full page advertorial in a national newspaper and stated that such a meeting was holding and that he was the one chairing it. At the end of the day, the group would issue a communiqué that the leaders of the geo-political zone have thrown their weight behind Jonathan's 2011 presidential ambition, while no meeting to that effect was ever convened. This shows the level some people can go to destroy a fine gentle man in order to achieve selfish end.
For the umpteenth time, I want to say that 2011 presidency belongs to the north and they should be allowed to produce the president.
For the Igbo, aligning with the north to achieve this purpose would be our best option. We should give them our votes and every other support for them to get the president in 2011 and in 2015; they would have no choice than to reciprocate.

If anybody wants, let him add Okpara and Ibiam to Ebele and Azikiwe that would never make him an Igbo man. There are three geo-political zones in the Southern part of Nigeria and there is no way Jonathan can stand for the South South and also stand for the South East. Name at this point in time should not be a rallying point or a ticket to go and drag what you know does not belong to your part of the country. For instance; one of my kinsmen goes by the name Alhaji Suleiman Ukandu. The name would certainly not make him to run for the office of the president as a northerner or for the north to adopt him as their candidate. As I said earlier we have seen all that before. Last year before the Anambra State Governorship election, Chief Tony Anenih said that his name was Tony Anene. That was the sentiment he wanted to use to secure Igbo votes for PDP. Also immediately after the civil war, Umuokoro, Umuola UmuKurushi, Obi-Igbo and many others were all changed to Rumuokoro, Rumuola, Rumukurushi, Rumuigbo just to facilitate the take over the Igbo property in Rivers State. That is the game the people of South South normally play whenever they want to take advantage of the Igbo Again, what many Igbo people who are canvassing for Jonathan don't know is that they are ignorantly playing Obasanjo's hidden card.
Obasanjo had sworn that in his life time an Igbo man will never be president of Nigeria and he simply wants to use Jonathan to play the spoilers game. He was well aware that if the north is allowed to rule for eight years that 2015 would be the turn of the Igbo. So what he did was instead of picking a vice president from the South East to run with Yar'Adua, so that by 2015, the person or another candidate from the South East would succeed the president, he picked Jonathan.
Jonathan like Yar'Adua is the instrument that Obasanjo is using to fight the Igbo but I strongly believe that he could still save himself and the nation much trauma by calling the bluff of those who, for entirely selfish reasons, want him to be president at all cost. I equally gave late Umaru Musa Yar'Adua the same advice in 2007 in page 52 of the book which I quoted above. It stated thus "Yar'Adua can still save himself by working against the wishes of his conscriptors, since he is aware that they do not mean well for him. He can through body language tell people to vote for his kinsman Buhari,his former political ally Atiku ,or his bosom friend, Orji Uzor Kalu. By so doing he can go and live the peaceful life he had chosen for himself since ruling Nigeria is not a tea party, definitely not something for somebody who is contending with a health crisis. Instructively, there are already insinuations in some quarters in the north that Obasanjo does not really want power to go to the region this time. That, according to those promoting this view, is the reason why he brought out a sick man so that if he won and happen to die in office, power would return to the south". As I said earlier, this book was published in 2007.
Some people may argue that President Jonathan has no health crisis but the undeniable truth is that he has a moral burden which is even far more dangerous than any of the terminal diseases that one can think of.
However, what the north and other Nigerians did not know is that the picking of sick Yar'Adua by Obasanjo was not meant to injure the north though that could be a short term measure. But the bottom line was to stop any Igbo man from ever becoming the president of this country because he knew that if a healthy man was picked and the north complete their two terms, nothing would stop the Igbo from asking for a president from Igbo extraction even if it would be with the last drop of their blood.
Therefore, all those who are propagating the view that Jonathan is ordained by God to rule Nigeria should know that God has no hand in this particular project, rather it is the devil that is at work. It is a calculated plan by a legendary Igbo hater to ensure that the Igbo nation remains in perpetual servitude because he knows that once zoning is destroyed and Jonathan wins in 2011,the office of the president of Nigeria to Ndigbo would become like, in the words of Bob Marley, "a fleeting illusion that can be pursued but never attain" and unfortunately some Igbo sons and daughters are ignorantly saying amen to this evil device by supporting a candidate that was thrown up to their detriment.
Peter Onyedika Anosike lives in Satellite Town, Lagos. 08035779230.
Disclaimer:

"The views/contents expressed in this article are the sole responsibility of the author(s) and do not necessarily reflect those of The Nigerian Voice. The Nigerian Voice will not be responsible or liable for any inaccurate or incorrect statements contained in this article."
Articles by thewillnigeria.com