WANDE COAL, OMOTOLA, DJINEE, J MARTINS, GORDONS ROCKED AT NAIJA @ 50, LIVE IN BENUE'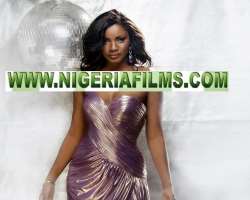 What better way would citizens of the food basket state have loved to celebrate the fiftieth anniversary of Nigeria if not by storming ,the Ibrahim Badamosi Babangida square, Makurdi, Benue state, venue of the Naija at 50 event which brought the "who is whos" of the entertainment industry to the state?
The Naija at 50 event which held Thursday, September 30 was every inch a classy and memorable event as crowd numbering over 40,000 stormed the IBB square to have a glimpse of what celebrities like Wande Coal, Djinee Omotola Jalade Ekehinde, Desmond Ellliot, Uche Jombo, J-Martins, I go die, Monalisa Chinda, Zaaki Azzay Gordons, had in store for them.
Setting the tempo as to what to expect for the night was award winning contemporary pop star, Djinee; he sang out his heart to the audience who couldn't help but flow along with him.
Love Idoko led Dream Pointers Ltd; the organizer of the show also gave room for budding stars as upcoming musician Mima took the stage next and sang to the delight of the audience. As an upcoming artist, many would have thought that she would reduce the tempo of the fun filled night but her electrifying performance got the audience asking for more.
After Mima, came the turn of the "Nollywooders"- Uche Jumbo, and Monalisa Chinda. They interacted and got along so well with the audience that the barrier that comes in between celebrities and their fans seemed to be nonexistent that night. In fact, A' list actress, Uche Jombo took it a notch higher when she danced to the delight of the crowd who wanted more than a piece of her.
Desmond Elliot, the MC of the night came up after the actresses to introduce J-Martins, the next artist for night and it was a great applause that heralded the entrance of the Oyoyo crooner on stage and he did not disappoint his fans as he performed most of his songs which the audience sang and danced to.
Just after J-Martins was Mo'hits star, Wande Coal, the mention of his name got the crowd wild with ecstasy. He performed some of his hits songs and got the crowd begging for more.
Following the success of the event, Dream Pointer has continued to prove itself as a major force to reckon with in event planning. The company which also publishes Motivation Magazine one of the most popular magazines in the North Central region had hosted Democracy Day concert early this year, which was also a success story.