4TH ABUJA INTERNATIONAL FILM FESTIVAL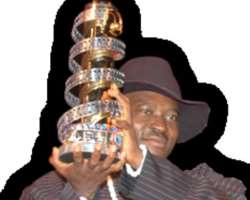 I got an invitation to attend the 4th Abuja International Film Festival 25th - 28th September, 2007.
ABUJA INTERNATIONAL FESTIVAL is a yearly program put together by super producer FIDELIS DUKER, to celebrate african films and uphold the tradition of appreciating films coming from our shores. This is the fourth edition.
It was held at the Prestigious SHEHU MUSA YARDUA CONFERENCE CENTRE, ABUJA. It was a pot pouri of activities and movie practitioners where at their best. There was film exhibitions, conferences, question and answer sessions, etc.
I arrived Abuja today Friday 27th September, 2007 at about 12.30pm. It just enough time for me to meet the paper presentation time of A-list seasoned actor KANAYO O KANAYO, who talked about the need for movie practitioners to bemore focused and work towards making the industry a vibrant one. He also spoke on the need for regulatory bodies to put a check on people who come up with different kinds of movie awards that do not help the industry to grow and also
said there should be better ways of fighting piracy, which is a bad omen to the industry.
I had the priviledge of talking and talking extensively with notable actors/actresses like ZACK ORJI, PAUL OBAZELE, NONSO DIOBU, FACE OF EVA, and the winner of the last edition of THE NEXT MOVIE STAR competition PORTIA YAMAHA.
You will be seeing some of the pictures soon.
It was a wonderful experience to mingle with stars and see how humble and down to earth they are.