Akpabio admonishes Nigeria Leaders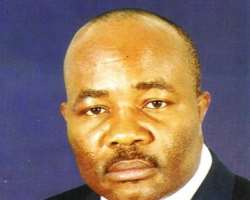 Godswill Akpabio
Akwa Ibom governor, Chief Godswill Obot Akpabio said Nigerian leaders should reflect and build on the gains of the country since independence Chief Akpabio who made the assertion Friday during a Gala night organized by the State Government marking the celebration of Nigeria at 50 noted that "Those of us in leadership must sit down and think very seriously about what have been the gains of the country since independence''.
According to him, "The state of infrastructure decay in the country leaves nothing to be desired. Most Nigerian leaders embezzle the country's treasury for their personal gains. This further adversely affects Nigeria".
Highlighting the challenges facing Nigeria at 50, Akpabio said the issue of insecurity in the country is a monster that must be tamed as a matter of urgency, stating that "The rate of insecurity in the country is alarming. Why has insecurity taken over the country? This challenge is notonly for Nigeria leaders, but for all".
He said he was determined to work with President Goodluck Jonathan to stem the security problems in the country. "We are equipping the country's security sector with a first-class technology that will fight kidnapping and robbery to a stand-still. We will fight criminals and bring them to their knees and ensure the security of lives and property so that all Nigerians no matter where they are, will live and work without fear", he affirmed.
Akpabio who solicited the support of Nigerians advised "Do not sit back and berate your leaders and government. You must assist through your good attitudes and prayers. My prayers are that the Egyptians you see today, you will see them no more".
 
The governor said though unemployment is a universal phenomenon , Nigerian leaders should plan so as to abate the high rate number of graduates that are turned out from the Nigeria's tertiary institutions without corresponding job opportunities. "We will fight unemployment. At 50, the rate of unemployment in the country is staring at our faces and we must rise up to the occasion," he averred.
Akpabio reiterated his unalloyed determination to making Akwa Ibom an industrialized state during his second term in office come 2011. "The mistake of the last 50 years will not catch up with Akwa Ibom. The foundation of the eventual development of the state has already been laid.
Look around. This is not because we receive so much money, but because we know what to do with your money", he asserted.
"Today, we are starting a new dream that Nigeria could be better if the resources are deployed for the benefits of all Nigerians. This new dream will start from Akwa Ibom. I will remain focused to show Nigerians how to prepare the country for the benefits of all and sundry", he concluded.