King Sunny Ade: Nigerian music is far better than 50 years ago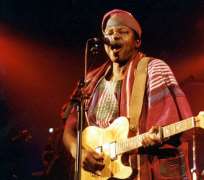 For juju music maestro, Otunba Sunday Adeniyi Adegeye popularly known as King Sunny Ade, music lovers all over the country should have a cause to celebrate because Nigerian music of today is far better than what obtained 50 years ago. According to the musician, who buried his mother, Princess Miriam Adegeye in grand style in Ondo penultimate Friday, unlike now that nearly every family boasts of an artiste, in the past it was difficult for a family to allow his child to play music.
Hear him: "Fifty years ago, hardly would you find a family that allowed his child to play music. It's either you go to church and become a very strong member of the choir. Now, everybody wants to play music. In those days, the real traditional music was not being exposed. I don't know if it's intentional. It was when Fela Anikulapo-Kuti took his music to London or America that we began to appreciate the power of Afrobeat. For instance, I started touring Europe and America from 1971 but not until 1984 that I became known all over the world. But now, Nigerian music is far better.
You release an album and you are known all over the place."
However, King Sunny Ade is worried that things could be made better than what it is now if the government provides an enabling environment for music and musicians to thrive. "I'm worried because the government is yet to provide an enabling environment for music and musicians to thrive in the country. Artistes are not being paid royalty. Most radio stations unlike before are no longer keeping log books that show which music is being played at what time and when. But despite all these odds you see good music springing up nearly everyday in the country," he says.
Comparing today's music to that of yesteryear, Sunny Ade opines that the only difference is the recent injection of computer into music. But then he says Nigerians should be grateful to God that there are still genres like highlife, juju and apala that are being performed without the use of computer. "Let's thank Got that we still have people playing juju music. Let's thank God that people are still playing highlife. Let's thank God that people are still playing apala. The only difference between today's music and that of yesteryear is the computer. Most of today's music is being made from the computer. In those days, to play juju music, you must have five guitars apart from percussion. Today, one man can do the job of 10 men in the studio as long as there is a computer."
Quality of songs
The acclaimed King of World Beats laments the dearth of good lyrics in most of today's music. He puts the blame of bad songs getting into public domain on the regulatory body that tends to look the other way at crucial times. "When you talk of bad lyrics, the person that sings it, the person that records it, and the person that puts it on the radio and allows it to get to the people are to blame. Elsewhere in the world when you sing or record a song, it goes through a regulatory body that will listen to it and decide if it is okay or not. Here, we have a regulatory body but it is not working. Nearly every radio or television station is playing these bad songs. Again, if there is no law to protect a song, the song is not yet complete.
Recording companies of yesteryear
The juju musician hinges the collapse of big recording companies of yesteryear like EMI, Sony, Decca and others on piracy. Even though he says he'd rather not speak for them, his suspicion is that piracy must have contributed to their downfall. "I don't know why the recording companies of the past are dead. I cannot speak for them. But I think what brought the downfall of those companies are pirates. You spend a lot of money recording an artiste, you publicise him, put him on the radio and within 24 hours somebody is on the streets hawking the pirated copy of that album. This is really affecting the industry. Nowadays, nearly every artiste is a label owner. There is no music shop you see that does not have its own artiste on its label. It's more or less a trade by barter thing. You give me some copies of your artiste's CDs and I will give you some copies of mine. That's what is happening now and I pray PMAN will take the bull by the horns and correct this anomaly," KSA states.
Exuding joy and happiness, he adds thus: "I am happy that PMAN under Admiral Dele Abiodun's leadership is already doing something in that direction. Now if you register with PMAN and you release a record, all the post offices in Nigeria will distribute it for you. In as much as some people can handle the distribution for us, we will go into the studio and spend more money to produce good music. And we'll know that we are not going to sell our albums to just anybody. Half of the albums released in a day get into the hands of pirates. When you have about 50, 000 copies of an album to sell, by the time you sell 10 the album is everywhere in Nigeria even as far as Benin Republic and Ghana. So, for people to put money into music production is always difficult."
Experience with pirates
Narrating his personal experience with pirates, Sunny Ade recalls how his 2009 album, Blessing fell into the hands of pirates within two weeks of its release. "In December 2009, I released an album entitled, Blessing but it was pirated barely two weeks old in the market. We arrested some people in Surulere, Lagos selling the pirated copies of the album. As I am talking to you now, over 50, 000 fake copies of Blessing that were seized from the pirates are in Surulere police station. And the question is: how many did I produce and how many did I sell?" he asks rhetorically.
The making of a good musician
King Sunny Ade takes time to differentiate a musician from a mere singer. He states thus: "A musician is someone who does music and, most especially, plays musical instruments. If you can write music and play an instrument, you are a musician. But someone who can't do this is a singer. To be a good musician, you must be focused. What do you really want to play? What are you ready to play? You have to express what you want to play and play it to the hearing of people around you through your own hears. To do a good music, you have to sit down and work on it. You can't do it alone so, you have to get people to help you."
My staying power
According to the musician, who began playing music in the 1960s, his staying power is God and the love his fans constantly show him. "The power of the Lord has been sustaining me over the years. Also, the power of music which makes people to love King Sunny Ade and the love that people always show me has been my staying power in all the years."
Advice to upcoming musicians
His advice to young generation of musicians is to be God-fearing, patient and have self-discipline combined with respect to elders. He says: "The upcoming musicians should have the fear of God. They should respect themselves and give respect to their elders. They should be self-disciplined. They should be patient and listen very well before reacting to issues."