I'll quit acting if my fiance insists -Sola Kosoko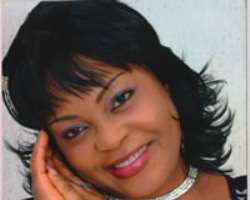 Sola Kosoko, an actress, is the daughter of veteran actor, Jide Kosoko. She tells ADEOLA BALOGUN why she had to return to the university despite being a professional artiste and how she was able to combine her academic pursuits with her career
What is the name of your movie?
Si Ndara. That is Oluwa si ndara ayo laye mi (God is still working wonders in my life).
Who wrote it?
I wrote the story and it is my first work.
Why bothering to be a producer at this young age instead of concentrating on acting?
I have a lot of younger people that have produced five movies; in fact some have produced 10. This is my first and don't forget, I was born into the industry. If not for my studies, I probably would have done more.
What is the story about?
It is about a couple who are lawyers. At a point in their careers, they have to face each other in the court. What actually motivated me into writing the story is the challenge that confronts couples in their professional demands and marital commitments. How can you manage your home without allowing it to affect your career? How can you perform well in your career without allowing it to affect the homefront? It has always bothered me and if you think of it, ladies are getting well educated these day and this has contributed to the spate of delays in getting married. A lot of people want to get their certificates, do some things for themselves before going into marriage. I use myself as an example. I have always talked about it that by the time I would be 21, 22, or 24 at most, I would have been a graduate or definitely before I get married, I would have been a graduate. I have heard of those in the banks, who are not allowed to get pregnant at certain times and this has really bothered me. I felt like exposing the dangers inherent in this kind of situation because scientifically, I am aware that late child-bearing could become complicated.
So, has your education affected your plans regarding marriage?
Well, my schooling has not really affected anything other than my acting career. I was already an actress before I gained admission into the university, which means that I have to combine schooling with working. This is not easy at all. But because of my resolve, I have made sure I don't compromise my education despite the pressure of work.
Did you go into acting because your father is an actor?
I see acting as a family trade. When we were all growing up, all my dad's children had appeared at one time or the other in his productions. My dad would not go out to look for a small boy or a girl to use for his productions, he would go for his own children. So acting has been part of us from childhood. After my secondary school education, when I was still at Federal College of Education undergoing Computer Studies, my daddy called me and said there was a particular play he was writing and that he would like me to feature in it. I said I was not going to do it because then, I was bothered that I had not gained admission to the university and I made it known to him. But my dad was very positive that I definitely would gain admission and that acting would not disturb me. He actually said that he was already seeing me fitting into the role he wanted me to play in the movie and I can tell you that I enjoyed it so well. It was after starring in Olori ire that a lot of people started taking note of me. So many big names in the industry, who were also part of Olori ire started calling me for bigger roles in their own movies. People like Ogogo, Muyiwa Ademola, Oga Bello called me for their productions and things have not really been the same since then.
Did they call you because of your dad or because of your prowess?
I would still have ended up as an actress, probably after my education but my daddy called me earlier than I planned. I can say that having a father in the industry helped me a lot. I believe I have to prove my worth for all these people to look for me because it will be foolhardy to rely on my father's name alone.
How many people in your family are into acting apart from your daddy?
I have a younger sister, Bidemi, who is equally into acting. That is why I said it is a family trade. If you are in a trade and you are making it, you are happy doing what you are doing and some of your children, who realise this will likely continue along that line.
You believe your dad is a successful actor?
Ah, very very successful. This is somebody that started acting as early as 10 and is still relevant till tomorrow as far as acting is concerned in Nigeria. He is a pioneer and one of the pillars of the industry. It is not easy to remain relevant for that long if not that he is good and that God has been with him.
Why did you insist on going ahead to become a graduate despite being an actress already and having a celebrity father as well?
It was a dream. My daddy is educated and so what do you think such a daddy would want his children to do? He wants his children to be more educated. He has started telling me about how I would do my master's degree but I have been pleading with him to bear with me. I have assured him that I would do it but that he should give me time and I will definitely do it.
The resemblance between you and your dad is very striking. Would you have wished you were a man?
Ah, no! I am happy and contended that I came as a woman.
How friendly are the two of you?
My dad and I? Ah, very close. I can tell my dad anything and he can scold me even till now.
Your dad has made it in English and Yoruba drama genres. In your own case, do you intend to toe the same line?
Yes, I have done some soaps. I worked in Super Story but I have not been able to do much both ways simply because of my schooling. But now that I have completed my programme in the university, I have the time. I am currently doing my national youth service with an entertainment outfit and I can tell you that nothing is more relevant.
Do you see yourself settling down with somebody in the movie industry in future?
No, it cannot even happen any longer because I am already engaged to someone outside the industry.
Did the guy develop interest in you because of your dad? It is not everybody that wants to get married to an actress.
The answer is no. Well, I don't know how other people feel but I know the guy loves me for who I am.
If he asks you to stop acting right now, what would you do?
If he says I shouldn't act again, I will stop but the truth is I am sure he will never say it because he knows it is a family trade. Again, he has been supportive all the way and I am sure he will not say anything like that. If he says I should not continue, he is my husband, he has every right to say what he feels but normally, it takes two to tango. I will give him the reasons why I cannot and I am sure if someone is in love with you and he knows that you love doing something, definitely, he will allow you.
Does your dad warn you on the need to protect his name especially now that you are one of the big girls in the industry?
Of course, what he does is that once in a while, he talks to all his children that we have to protect the family name. The truth is that my dad has built his name over the years and I am not going to be the one to drag the name through the mud.
And to avoid scandals?
Well, it is not easy to avoid scandals because we are in the public glare and sometimes people don't understand what happens but they misunderstand what we do among ourselves. You cannot satisfy everybody but I try my best.
So how have you been able to manage the few ones in which you were alleged to be involved?
The truth is you cannot expect positive things written or said about you all the time. There are times you get negative stuff about yourself. I have got to develop some shock absorbers from my dad. My dad is a very strong person; his shock absorber is very strong. He will just cool himself down and then try to look at what to do next.
Would you be willing to drop the name Kosoko when eventually you get married?
Definitely, every woman would aspire to drop her father's name for her husband's. The truth is that someone, who is already famous with her maiden name, may want to hold on to it when she eventually marries but it will get to a stage when she can drop it and still remains famous. By the time I start combining my maiden name with my husband's name and people are used to my husband's name, I can drop my father's and people will still recognise that.
Has it bothered you that your husband, who is not an actor may not always be comfortable with what his actress wife does now and in future?
The truth is, if you are in a relationship, you talk with your partner; and you don't just talk about the present, you also talk about the future, which is equally important. Through that, you will know the possible thing that will affect you in the future, but which you can manage. The only inevitable thing about life is change and it is good to be prepared to adapt to whatever change that comes but we all pray that negative change will not happen to us.
Doesn't your fiance entertain the fear that your dad may be over-bearing in your marriage?
No, he doesn't have to entertain such fear because he knows my dad. My father is married to his own women; my fiance is going to be married to me.
Your fiance got attracted to you on the screen?
No, he hadn't seen me in any movie before he met me. Our relationship grew as a normal one between two people.
While your fiance is not known in public, you are like an open book to everybody. How do you reconcile that?
That is even the best arrangement. If we are both in the public, that may be a difficult one. I prefer the way we are and it will make things easier for us.
Children of celebrities are often seen as cocky and unable to submit when they eventually get married.
So, what is the big deal in being the child of a celebrity or a celebrity? I am not the only person in that category. We have the likes of Kunle Afolayan, Moji Olaiya, Sunkanmi and I have met all of them and I don't think any of these people is cocky. Yes, we are children of celebrities but we have got our own lives to live. I will remain myself in whatever situation.
Who are those who starred in your movie?
My dad is there; he actually directed it. Muyiwa Ademola is there, Antar Laniyan, Femi Branch, Femi Adebayo, Jibola Daboh, Doris Simon, Baba Latin, Lorietta Kosoko; my younger sister, Bidemi, is there and a lot of others.
So where did you find money to pay all of them?
I funded it, together with the help of my dad and my fiance.