INEC'S NO CONGRESS, NO CANDIDATE POLICY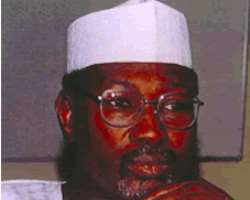 The latest move by the Independent National Electoral Commission (INEC) to de-recognize party executives perceived to have emerged through less than transparent means at all levels have generated mixed feelings among political parties. The move, INEC argued was meant to institutionalize internal democracy in the parties.
The Commission said it has to take the issue of internal democracy in parties seriously having realized that more than 65 per cent of its problems arose from lack of internal democracy in parties which had led to unilateral selection of candidates and indiscriminate substitution of duly elected candidates at primaries for elective positions. This development, INEC further posited, led to an avalanche of litigations by aggrieved candidates after elections.
The Commission relied on the provisions of sections 85 and 86 of the 2010 Electoral Act which gives INEC the right to demand 21 days notice from parties before staging their congresses and conventions, as well empowering it to seek information or clarifications from registered political parties in connection with any activity of the parties which might be contrary to the provisions of the constitution. Section 26, sub-section 4 says a political party which fails to provide the required information or clarification or implements any unlawful directive commits an offence.
With the new determination by INEC to conduct credible elections that will reduce, if not totally remove litigation after elections, INEC Chairman, Professor Attahiru Jega said the Commission needed to be cautious by ensuring the right candidates are put up for elections in which the outcome would no longer be subject to judicial arbitration.
Therefore, to achieve this lofty objective, INEC moved against party congresses perceived to have been contrived through undemocratic process or which has sparked off crisis within any party. The executive members from such congresses, the Commission ruled, will not be recognized. In a letter dispatched by INEC to parties last September 27, which was signed by the Commission's Secretary, Abdulahi Kaugama, it asked parties to note that 'the Commission would not relate with illegally constituted state executive committees on any matter relating to the 2011 general elections.'
It went ahead to name states where it observed the congresses were not conclusive and therefore did not recognize their executives .While political parties partly agreed that there is need to restore sanity in the electoral process and the polity generally through adequate supervision of the activities of parties, they, in the same equanimity, expressed fear that the move may rob them of their independence to conduct their affairs without interference.
They warned INEC against dabbling into party affairs in a way that will give room for disgruntled elements to throw-up phony crisis and create confusion in parties for their selfish interests. This development forced the Peoples Democratic Party (PDP) to call a meeting of its governors where INEC had de-recognized its party executives. The governors, it was gathered were miffed at INEC's position and rather than settling for new congresses, urged their party leaders to open discussion with INEC on the matter saying the party has its constitution that regulates its activities and the intervention of INEC would amount to undue interference in party affairs
.It is quite understandable why the INEC position will not go down well with the governors or the party leaders. The composition of party executives at all the levels to a large extent is a reflection of the candidates that will emerge from congresses for elective positions. Once they lose their grip, then their ambition is as good as truncated. National Chairman of Labour Party, Chief Dan Nwayanwu told Sunday Sun that good as the INEC decision might be, it might turn out to be another source of confusion in the polity the magnitude of which might be unfathomable. He explained that if INEC had been performing its functions well before now, the issue would not have arisen.
According to him, 'we hope some unpatriotic elements will not use the INEC position to cause trouble in the parties. We all know that the law empowers INEC to observe the congresses of parties, and the Commission relies on the report of its observers to determine if the congresses are legal and transparent or not.'It is on this premise that we in the Labour Party believe that INEC should not have a problem knowing which Congress it should relate with even when there are factions within the party. INEC should not generalize. It is not in all the parties that the culture of imposition thrives. If INEC is up and doing, parties won't have parallel executives.
Once INEC is notified of congresses, they come and observe the proceedings and submit a report to their office. If another group from a party comes up to say they are the authentic executive committee, INEC should not have problem knowing which to relate with. But by and large, the INEC position can lead to problems for the parties.'
In his reaction, Second Republic Governor of Kaduna State and Chairman of the Peoples Redemption Party (PRP), Alhaji Balarabe Musa supported INEC's position. He said it will make the parties conduct themselves democratically, adding that the move will entrench internal democracy in the parties and therefore lessen the dispute INEC would have to contend with after election.On the other hand, the move, he argued might not be helpful to small parties, which may not be able to conduct congresses, the way INEC wants it. Toeing same line with Nwayanwu, he maintained that INEC should know that nominations of candidates are done through convention and congresses which are observed by them.
The fact that some trouble makers would not see due process in congress should not be enough for INEC to deny a party's nominations for election. 'We have to watch it so that some people will not deliberately plant surrogates in rival parties just for the purpose of causing confusion since they know that any disagreement with congresses may cause the party its rightful nomination', he added.National Secretary of National Conscience Party, Dr. Yinusa Tanko pointed out that as much as his party supported INEC's position, it would not succumb to intimidation in the name of entrenching internal democracy.
INEC should not allow itself to be used to reduce the chances of some parties in the coming elections. 'Why in the first place should INEC not be aware of which congress is legal and which is illegal. Why should it wait till when election approaches before rolling out rules on which party congress to be recognized and which should not be.'He explained that some smaller parties can conduct consensus primaries, congresses and conventions. 'The INEC policy should not be a blanket one, parties have their constitutions to guide them.'
All Nigeria Peoples Party (ANPP), on its own part voted totally in support of the no congress, no candidate policy of INEC. Emmanuel Eneukwu, National Publicity Secretary of the Party pointed out that development is in the interest of the party. 'It is good, it will reduce bickering and crisis within parties. He recalled how INEC intervention in his party's crisis restored sanity when it decided not to recognize either of the two groups that emerged at the peak of the disagreement among the party's leaders.'
He admitted that INEC's letter made his party to reschedule congresses in some states in the North. He added 'In ANPP, we have taken steps to remedy the situation. INEC rejected our executives in Bornu and we conducted another one in line with the new directive.'
However, INEC would have to read between the lines when wielding the big stick against parties with respect to this rule. 'If care is not taken, in some states, people will just raise dust just to have INEC deal with the party. If INEC officials have it at the back of their minds that they have the final say as far as party Congresses are concerned, it means they are no longer observers. Parties should be allowed to manage themselves, not INEC managing them.'
The 2007 election elicited a flurry of petitions from aggrieved parties some of which are yet to be decided few months to the next general elections and observers are of the opinion that how well INEC is able to encourage parties to take internal democracy as sacrosanct coupled with the conduct of transparent elections will go a long way in minimizing litigation after the elections.