Protest Against Wastage At Nigeria At 50 Anniversary: Hackers Hijack National Assembly Website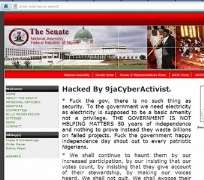 Apparently angry at the way the Nigerian government wasted scarce national resources on the the Nigeria at 50 events in Abuja today , cyberactivists have broken into the website of Nigeria's National Assembly and posted a critical message on the homepage accusing the ruling elite of misgovernance, and denouncing the 50th independence anniversary celebration.
In a three- paragraph petition it left on the site, the group which called itself "9ja cyberactivists", said it would haunt the government functionaries and expose their indiscretions to the world through series of cyber-activism.
Read the petition after the cut...
"F..k the gov, there is no such thing as security. To the government we need electricity as electricity is supposed to be a basic amenity not a privilege. THE GOVERNMENT IS NOT HELPING MATTERS 50 years of independence and nothing to prove instead they waste billions on failed projects. Fuck the government happy independence day shout out to every patriotic Nigerians.
We shall continue to haunt them by our increased participation, by our insisting that our votes count, by insisting that they give account of their stewardship, by making our voices heard. We shall not quit. We shall expose their many goofs and make them even more scared of their own shadows. We don't need them to pass the law. We shall assume the law.
For the people really are the law. For the law is for us and ours to live with. So we shall unseal our lips and undo the gag. We shall refill our quills and adjust our keyboards. We shall also shop for new cameras, for any thing it will take. We shall haunt them and their kind until they, like the cockroach disappear from our faces and out of our hallowed chambers.
No one else will create the future we desire if we don't step out of our islands of sanity to fix the ills we so often condemn. #Nigeriaat50 I: If youth make up 70% of Nigeria, then the responsibility lies with us to kickstart the process of change we can be proud of. #Nigeriaat50 G: God has been faithful for the first 50 years, it's now time to do our part by taking our destiny into our hands. #Nigeriaat50 E: Enough is truly enough. They call you(th) "resilient", "potentially great", "tomorrow's leaders". Tomorrow begins today! #Nigeriaat50."
As at the time of this report, the National Assembly is yet to regain control of the site