SUNTAI SEEKS ACTION AGAINST GRAFT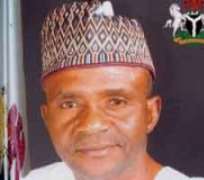 FOR the country to attain the highest level of development as mapped out by the President Goodluck Jonathan's administration, corruption and other vices, which have eaten deep into the fabrics of the nation's life, must be eschewed
This was the position of Governor Danbaba Suntai of Taraba State in his message to the people of Taraba at the commemoration of the country's 50th anniversary, celebrated yesterday at the Jolly Nyame stadium in Jalingo, the state capital.
Suntai blamed the leaders for the slow development of the nation. He said: 'For every difficulty we have experienced as a country and as a state, the leaders at all levels and the parents have been responsible.'
To address the various vices, which according to him, is fast threatening the bright future of the country, 'a solemn assembly must be convened by both the leadership of the Christian Association of Nigeria (CAN) and the Moslem Council of Nigeria (MCN).'
Suntai, who analyzed the past leaders especially from the military incursion, felt sad that nothing meaningful had been achieved.
He said that in view of Nigeria's 'desire for materialism by both past and present leaders, the future of the country remained gloom.'