Pastor Enoch Adeboye's open confession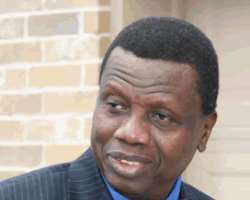 On Tuesday, September 21, Chief Oluremi Tinubu, OON, rolled out the drums to celebrate her 50th birthday. Indeed, turning the golden age, especially in a country where death is so cheap, really calls for a loud celebration. And the huge turnout inside the magnificent venue bore testimony to the popularity of the celebrant. So many people from all walks of life had come to share in her joy. And except you had your invite intact, you would have thought that it was a political gathering of sorts.
Indeed, if, before now, it was a rumour that the former Lagos State First Lady is close to the General Overseer of the Redeemed Christian Church of God (RCCG), Pastor Enoch Adeboye, it became an incontestable fact during the elaborate birthday bash.
Over the years, many who are close to the respected G.O., as he's popularly called, would attest to the fact that he rarely attends birthdays. But what could be the reason? "I hardly attend birthdays because I have too many children. So, I wouldn't like to be accused of being partial if I attend the birthday of one member while I don't attend another member's birthday," he disclosed.
So, how was Tinubu able to 'drag' the man of God to venue of her birthday? That was the question on the lips of many at the event. Surprisingly, it was a plot hatched by both Tinubu and Adeboye' wife. According to him, when she came to inform him of her impending birthday, he was not available. So, she had to meet with his (Adeboye) wife. And by the time he came in to join them, his wife had given Tinubu her word that her husband would grace the event. The short dialogue that ensued between them said it all: "But you know I will be returning from my oversea trip that day; so, I might not be able to make it," said Adeboye. The wife replied, "Yes, but you can come straight from the airport to the venue." And then, he said, "Fine, it is possible I come straight from the airport to the venue, but I will need to change into another dress." "No," the wife said, "in that wise, you can dress up for the occasion before boarding the plane, so you don't have to change into another dress." And that ended the dialogue. How powerful can women be?