WHEN THE HEART LIES WITH OMOTOLA, PAUL PLAY, OTHERS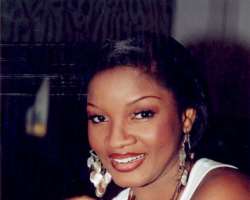 STAR actress Omotola Jalade-Ekeinde, hip hop act Paul Play Dairo and rave of the moment Nollywood sensation Uche Jombo recently thrilled movie bufs in a soon to debut blockbuster entitled When the Hearts.
Also, starring in the big budget flick produced and financed by Vivian Ejike, the ex-banker turned moviemaker are: veteran actor Enebeli Enebuwa, Desmond Elliot among others.
Interestingly, the movie directed by Lancelot Oduwa, revolves around a group of pals who were brought together by a chance meeting at the airport and immediately formed a close friendship.
Sixteen years later, however, one of them becomes a very successful musician and this inadvertently pitched her against her religious parents.
Unknown to many, especially her teeming fans, their super star singer, has a dark secret, a secret from the meeting at the airport 16 years ago. In fact, a secret that was so dirty and inglorious that her fans and highly revered pastor parents must never know about.
And in order to keep this secret for eternity, every one connected to it must be avoided like a plaque. "Therefore, this dark and dirty secret must remain buried,' disclosed Ejike, a French graduate.
Meanwhile, on the other hand, Angel, a rising teenage music star who is poised to rule the scene and incidentally idolises the star with the dark and dirty secret, has a lifetime regret. She is looking for the heartless woman who bore and dumped her several years ago, in a public toilet.
"But despite this regret, she would do anything to meet her idol, the star with the dirty past,"added Ejike. When the Heart Lies, which was shot at several locations in the Lagos metropolis is expected to hit the market nationwide and on the foreign scene, after a world premiere scheduled in Nigeria, the U.K. and the U.S between the months of October and November.
"This is my sixth and most challenging movie as a successful producer. It will definitely blow the minds of all lovers of quality movies as soon as it hit the shelves. It was masterfully packaged and produced for solid enjoyment and entertainment...", Ejike submitted.