WHY THERE'S NO ALTERNATIVE TO PDP – ONYIA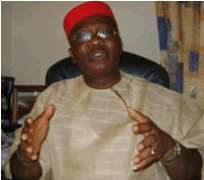 Chief Dubem Onyia is a former Minister of State for Foreign Affairs in Chief Olusegun Obasanjo's government. He was the National Secretary of the defunct Peoples Democratic Movement (PDM), one of the political groups that formed the Peoples Democratic Party (PDP). In this interview, he speaks about his exit from the party and explains why he returned with Alhaji Abubakar Atiku among other issues. Excerpts…
What really is the attraction in PDP that you left for AC with Atiku and now back together?
The truth of the matter is this, I have always said that Nigerians forget so easily; and I liken this attitude of most Nigerians to a woman who is pregnant, who, during the pregnancy will be saying, I would not have any other babies after this because of the trauma involved in the pregnancy but you find out that three months or four after delivery, she would say oh! I had a baby girl, I am yet to have a baby boy; she will forget the pains she had during the pregnancy.
We have not learnt any lesson from the June 12 election that was cancelled; we have not learnt any lesson from the various agitations for the enthronement of true democracy for which the military left the scene, we are yet to remember those who died during those periods, those dark days, those who paid the supreme price.
Everybody in this country is very selfish, most politicians are very lousy.
PDP came into existence as a result of a struggle; struggle to have true, effective and enduring democracy in this country. But unfortunately, the government of the former President, Olusegun Obasanjo made it difficult for us to have that kind of system, to achieve the objectives of the founding father of PDP, because of his ambition to eternally sustain himself in power.
Don't forget that the majority and most of the founding fathers of PDP were de-registered by former President Obasanjo because he thought and felt that they would not support him to achieve his aims of being a life president in this country. Because of that, he even went to his Vice's ward in Jeda to go and deregister him, the ward chairman took the register to the Government House.
Don't even forget that Jim Nwobodo and myself went to Enugu to register and the ward chairman of Jim Nwobodo carried the register to the Government House and Chimaroke took the register from him and said he cannot register anybody. Don't forget that Nwodo was deregistered, in fact, he was to reapply, and even after submitting his application, he re-applied but he was still denied registration. My ward Chairman denied me, because we were still seen as rebels, those who were fighting the former President, those who were not supporting the former President to actualize his third term ambition.
That was why we left PDP, and now that President Obasanjo has left, although he is still the Chairman of Board of Trustees, but he is no longer the leader of the party per say, as being the President of the country. And the Ekwueme report came after a committee had to go round, invited us and I attended, I went to Nike Lake, and made my submission and that recommendation was discussed and adopted by the National Working Committee and the Board of Trustees. They begged and asked those founding fathers who left to come back to the party in the spirit of reconciliation and help lift the party as if they have never left in the first place.
But be that as it may, we tried to see if Nigerians could have a formidable opposition party in this country. We tried to see if we can get Action Congress (AC) and most of other political opposition  parties to come together and form a solid opposition, so that at least Nigerians can have an alternative. It wasn't any battle against PDP. It is the fact that if you have a political party in the government today, and they are not meeting the aspiration of the people, we have a choice to vote another government in through another political party; unfortunately it didn't work.
Because of the selfishness of the leaders who were supposed to come together to form that opposition party and when that thing happened, I personally decided even before I went to Togo, under ECOWAS, to observe the Presidential election in Togo; I told some of my friends that I have to go back to the house I helped to build, so that we can start reforming the party and fight for internal democracy in the party. I didn't leave PDP because I wanted to leave, I left PDP because I was shut out of PDP, I was deregistered.
Now that you are back, what do we expect because some of those who were responsible for your exit are still there?
I left because the President in power then who was the leader of the party, used his presidential and Executive power to deregister us, the man is no longer the president of Nigeria today, so I have no grudge against anyone.
Your friend, Atiku is still having problems with the party
That is the internal problem with his ward in Adamawa, and I am sure that they are resolving it. It is not easy when you are a tenant and the landlord says I want to take my house, won't the tenant go to court to prevent the landlord not to take the house? Of course, if you go to the court. You see most cases of tenant against landlord, the landlord say, I give you quit notice, I want to come and use my house, the tenant says no.
At the same time, you won't expect people who have been landlords, who have been leaders of the party in that state to quickly give up their leadership and accept somebody else to come and take over from them; there must be some resistance. That is what politics is all about, so it is an internal problem, it is the Adamawa problem.
It is internally restricted to Adamawa and I am sure they are resolving it. It is a question of dialogue, discussion, people's interest is at stake, and once you reassure people that their interest will not be tampered with. And we have come together not to drive you or take over leadership, but we have come back to work together to build this party and make it strong, once the current leaders are assured that their interest will be protected, that their position will not be taken, everybody will relax.
There has been so much noise over zoning which appears to have been somehow settled to please all parties. As a founding father what is your take on the controversies?
Sometimes I said that we need to put things straight, not because of us who are alive today, but because of these ones who are yet unborn. What matters is not that Dubem Onyia was a founding father of PDP, don't forget that PDP was made up of seven delegates of each of the political associations that came together. After the G34, and the members from the G34 were told to form associations and bring seven, seven delegates and that is why the former Senate President, Chuba Okadigbo had to go to the South East to form PNF and brought seven delegates from there, I came from the PNF angle, and I was one of the assistants to Jerry Gana who was then the National Secretary to the working committee that formed the PDP, I was his Assistant.
Yes there was an agreement among the founding fathers of PDP that the zoning should be enshrined within the PDP, and it was a written agreement, we wanted to ensure that justice, equity and fairness prevailed in the country, since PDP was a child of the struggle against the military for the enthronement of democracy, that each of the six geo-political zones will have an opportunity of presenting a candidate for the highest office in this country. At that particular point in time, late former Governor Abubakar Rimi, may his soul rest in peace, wanted to contest and said he does not believe in zoning.
Then Chuba Okadigbo, got up and said to him that for the unity of this country, for the democratic survival of this country, that every zone in this country should have the opportunity to present a candidate for the presidential slot and that it is the turn of the south and therefore if we zone the presidency between the North and South, every zone will have an opportunity to rule the country and therefore there will be no argument or threat of disintegration and marginalization. We said the power has been in one section of the country, after that an agreement was written, that was why if you look at it, during the presidential race in PDP, the main candidates who came out of PDP, Obasanjo, Ekwueme,  all are from the South.
When was the agreement signed?
During the formation of the party. That was in 1998; at that point in time, Obasanjo was still in prison, he had not been released then, he was the beneficiary of that agreement, for anybody to distort it and say there was no agreement within the PDP to zone the president and other higher offices within the North and South, the person is not only lying but he is distorting history. I don't care today if they say zoning should be removed, but it remains that there was an agreement then, to ensure that every section of the geo-political zone in this country has the opportunity to present the candidate to the highest office.
When Obasanjo came out of prison, was he made to know that there was an agreement on zoning?
Yes, he was very much aware of the agreement, you see the danger of this thing people are saying, get rid of zoning, let the best candidate or merit prevail. The danger is that, Nigeria is a country made up of about 150 million people and is capable of producing more than 6 countries. The only way we can have the sense of belonging, is by knowing that my child or my grandchild will have the opportunity of being the President.
Forget that through divine intervention, Jonathan is the President today. What of after today? Jonathan's grandson cannot be President if the power goes back to North?
So we must evolve policies that will go beyond today and that will take into consideration the unity of this country today, tomorrow and hundred years to come.
It is not the policies that will suit me because I am in government today. That is one thing that I want Nigerians to look at. You are in government today, design the policy that will suit you tomorrow when you are out of government, don't formulate policy that will militate against you and then you will be complaining.