IT'S NOT A SIN TO WEAR MAKE-UP – JENNIFER ANYANWU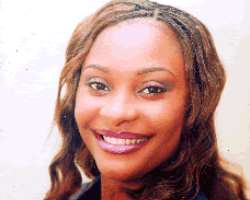 Jennifer Anyanwu
Jennifer Anyanwu is the brain behind Face Craft Studio, Festac Town, Lagos.
Also a model, she ventured into beauty business because of her great passion for beauty.The Psychology graduate of Imo State University and mother of three, in this interview with Saturday Sun , spoke cheerfully about her marriage, beauty business and what it takes for marriages to stand tall for eternity.
Why did you abandon your profession?
Make-up is something I had always admired as a young girl. Any time I see my aunties applying makeup, I get fascinated. I remember as a child, when my mother would shout at me because of stealing her make-up to apply on my face. She praises me for applying it properly even at my age. So, immediately I graduated from an institution of higher learning and got married, I decided to practise make-up at House of Tara for a month as a professional.
My first experience was when I made a friend's make-up for her wedding, everyone appreciated her look, though I knew there were things I couldn't explain relating to the classes of make-up and their relativeness because I had not studied that aspect.
What does it take to be a beautician?
You must have the flare because it is not something you venture into just for making money. You have to practise it.You have to be motivated and as well, look like what you practise as a beautician. You have to be admirable especially with your make-up to portray what you do in order to win the hearts of your customers because first impression matters a lot in the business. So, you project yourself as an advert of your business. I don't sing praises of myself but my face always represents Face Craft Studio as a beautician.
Make-up business is becoming a trend in the society, why?
Yes, because so many women want to look very beautiful, while some like to follow the trend. You can't be a celebrity, yet you are wearing bad make-up on your face. You would look out of place. So, makeup is very unique because it is an added becauty to a woman's look.
Who are your clients?
My clients are mostly brides and top class ladies. Most times when they have an event to attend, they invite me to do their make-up. Students also patronize me. My clientele comprise every class of women. I also do home service but the charges are higher.
What actually inspirated you into the business?
I draw my inspiration from the public. When I see a woman on the street wearing wrong make-up, I tell her how to look good on makeup as well use the medium to introduced myself to her. You will be inspired to do it after I apply your make-up. Make-up is there to enhance your beauty because you already have the features. It depends on the make-up artiste though some may make you look like a masquerade. As for me, I like anything that will make me look more beautiful.
How best can one apply make-up?
Make-up is an act. It is not something everybody knows how to do, but if you must apply it, let it be light because too much make-up makes one look like a masquerade face or gives you a pancake face.
What is your best product?
I don't have any best make-up product. I just use anything that works for me like Iman or Mary Kay. There is a new product I like. It is called Milan. it is very wonderful. I also like Sleek and Tara products. I use most of our Nigerian products.
What are your beauty routines?
I drink a lot of water. I make sure I don't eat after 6pm. I also watch what I eat. I swim a lot which smoothens my skin. I also scrub my body once every week with a stem bath. I don't do facials because my face is already smooth, so I don't need it. Then I apply my lightening cream at night while I moisturize in the morning. After this, you would discover the beauty of your skin. I also eat a lot of fruits.
Tell us the secret of your young and beautiful look
I'm always very happy. I smile a lot. If you ask people close to me, they will tell you that I'm a very cheerful person. My philosophy of life is that you exist once in life, so you have to enjoy life to its fullest. I don't allow anything to disturb my mind. Even when I'm angry, I try as much as possible to move on with happiness the next minute. Laughter, they say, makes you look younger and I think it is true because laughter has really been working for me as a beauty routine.
What challenges have you encountered?
There are so many make-up artistes because it's a lucrative job. If you know what you are doing, you have to carve a niche for yourself to stand you out from other make-up artistes. Most times when I I attend shows, I apply shinny make-up together with my make-up products on my models to differentiate it from others. If you see it on any model, you don't need to ask about the artiste because it signifies Jennifer Face Craft.
I always have something different, that is why models patronize me. If you are making up a client, comfort should be your priority as a beautician though some make-up artistes prefer heavy make-up because it's a fashion show. But if she doesn't have the charisma to walk on the stage because of her heavy look. She wouldn't walk well. So, I prefer giving them fashion make-up.
Kinds of make-up
There are fashion show and bridal make-up which includes engagement and casual makeup. What differentiates them is its heaviness and lightness. Bridal is always light while engagement is louder with more colours because her dresses are always colourful, so we follow her colours.
Fashion show make-up is very loud because most times, it's at night and make-up and light is very simultamous. So, if you don't apply enough, you wouldn't see it. Therefore, you have to apply it very loud, though the designer would also inform you on how he wants it. Casual make-up is simply for a daily look. You don't have to carry heavy make-up.
What stands you out?
I'm consistent. I admire making my clients look more beautiful than they were created.
What best make-up can one apply?
It depends on the occasion, traditional or bridal. You also have related to consider the colour of dress of the bride. Make-up colour depends on your complexion and what you are wearing.
How small did you start?
I started with a little amount of money by using my garage. When my husband came back and saw it, he was encouraged. So, he developed a studio in front of my residence. He assisted me financially and I bought makeup kits and make-ups. I would also talk to engaged ladies by identifying them by their engagement rings to patronize my make-up studio on their engagements or wedding ceremonies. Today, we have made immense progress. Now, I have a branch at 23-road market.
Must every body wear make-up?
It depends on the individual. Some ladies don't like making up but I know that make-up enhances a woman's look. It is not compulsory for a woman to wear make-up, but if you must wear it, wear it well.
Some believe that wearing make-up is a sin, what is your view?
I don't see any where in the Bible where God says we should be very ugly and unkempt to worship Him. God is a king so you have to look like a princess to worship Him.
Aside being a make-up artiste, what do you do?
As a make-up artiste, I also do facials and body scrubbing. I'm also a model and have done jobs for MTN, ZAIN, Union Bank and Sky Bank. Others are Petal Hair Cream, X-Pression, Vita Foam and Vogue Magazine. Currently, I write for Vogue Magazine on skin and facials though I had written for Nigeria Travel Magazine edited by Bimbo Johnson. I had also written for City People magazine. In fact, I'm the official make-up artistes for Voque Magazine. I also did Dbanji make-up for Power fix advert. I was the make-up artiste for the models of the Nigerian Television Fashion Show.
Why do you think celebrity marriages break-up?
It all depends on the individual. Marriage is a sacred institution; so I don't see any reason some of our celebrity's marriages should break up. They are not Americans, so why is it a trend among them to tear their marriages apart. I believe it's not in our culture as Africans to just walk out of our marriages for any reason because it's for better or for worse. There is no justification for divorce. As for me, my marriage is sacred and I have three kids. So, I don't see any reason I should leave my family for anything.
What is the major factor for failed marriages?
Trust is one major factor. If couples trust themselves, there is no reason for suspicion or gossips. Even if they tell you anything about your husband or wife, you wouldn't bother your head over those gossips when you know your partner is faithful. Some marriages lack trust and it takes the grace of God for such marriages to succed.
What is the secret of success in your marriage?
I hold it very sacred and you cannot go back on your words even if you feel like. I like to stand where I am and I am full of life. I take everything the way they come. I'm not a demanding person. I appreciate what I have. My husband is very caring, loving and above all, pampers me like a baby and I'm not prepared to quit my marriage for anything because I love my husband dearly. In fact, we are together forever because we have built a future together, so I don't see anything putting us asunder.
How did you meet your husband?
It was funny how I met my husband. I was on a bike in Festac and I noticed that someone was following me. So, I had to stop to know why the man was tracing me. Though I embarrassed him, he told me that he was interested in me.
He said that immediately he saw me, something told him that he had found his wife. My husband is a very quiet person and he doesn't like it when people engage him in conversation. In fact, he is a lonely Londoner. He likes to be on his own. Earlier when we started, I found it difficult relating to him because of my kind of person. I like talking and associating with good people while he is not.
It took me a lot of hard work to bring him out of that shell. So, now he even talks more than me. That's the power of marriage.
Who are your role models in the industry?
Iman and Tara who brought me up in Nigeria. Now she has her own ranges of cosmetics and make-up for which I applaud her. I aspire to be like her with my own range of products named Face Craft.
Greatest influence
My mother is my greatest influence because she really inculcated a lot in us. She was very strict then and I thought she was over-doing it, but today it pays us because there is no situation I can't adapt to. Even though my father was working with an oil company in Port Harcourt, my mother didn't give us chance to get spoilt. I grew up in 322 Festac while I got married in 321 Festac, Lagos.