ARMY PREPARED ME FOR LEADERSHIP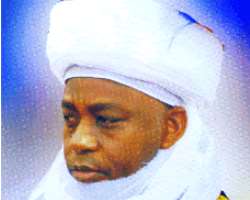 Abubakar
His Eminence Sultan Muhammad Sa'ad Abubakar was born in Sokoto on August 24, 1956. He attended Sultan Ward Primary School Sokoto before being admitted into the famous Barewa College, Zaria for his secondary education in 1970.
He opted for a military career in June 1975, as member of the 18th Regular Combatant Course at the Nigerian Defence Academy and was commissioned as a Second Lieutenant on December 17, 1977. Since then, he served in the elite Nigerian Army Armoured Corps and attended various professional courses and seminars in Nigeria and abroad.
He was in India for the T55 Armament Instructor Course; the Junior Division at Armed Forces Command and Staff College, Jaji, Nigeria and Land Force Command and Staff College, Canada. He was a participant at the Senior Executive Course 28 of the National Institute for Policy and Strategic Studies (NIPSS), Kuru.
The Sultan had a penchant for development in contemporary military strategy, hence he attended the United Nations Training Assistance Team Seminar on Peacekeeping, Disarmament, Demobilisation and Reintegration at Accra, Ghana; Conference on Sub-regional Security Protocols and Demilitarisation in Africa, ECOWAS Mechanism for Conflict Prevention, Management and Resolution, Peacekeeping and Security at Banjul. The Gambia and All Central Organ Chiefs of Defence Staff Conference on Conflict Prevention, Management and Resolution at African Union Headquarters Addis-Ababa, Ethiopia. The Nigerian Army also sponsored him for a three-month Advanced Certificate course in Operational Research at the University of Lagos in 1995.
He held various Command and Staff appointments while in service and rose to the rank of Brigadier General. The major ones being a member of 245 Recce Battalion for Organisation of African Unity (now AU), peacekeeping in Chad Republic between 1981 and 1982; second-in-command, Corps Headquarters Company (Presidential Security Unit) from 1987 to 1988 and Commanding Officer, 241 Recce Battalion, Kaduna in 1993. He equally served as a Military Liaison Officer for the Economic Community of West African States (ECOWAS) from 1995 to 1999; and Commanding Officer, 231 Tank Battalion for ECOMOG Operations in Sierra Leone between 1999 and 2000. He also served as Nigeria's Defence Adviser to Pakistan in 2003-2006, with concurrent accreditation to Iran, Iraq, Saudi Arabia, Afghanistan, and Gulf States.
The Sultan was humble and above average in academics. A good mixer, he maintained close relationship with family and colleagues, always ready to succumb to superior judgment. He also had distinction as a disciplinarian with exceptional leadership qualities. He was an active footballer, both at Barewa College during his secondary school days and during his service years. He was one-time member of the Nigerian Football Association (NFA), and chairman, Nigerian Army Football where he formed a standing team for the Army.
He succeeded his brother, the late Sultan Muhammadu Maccido of blessed memory, who died on board an ADC Airlines Flight 53 that crashed shortly after takeoff from Nnamdi Azikiwe International Airport, Abuja on October 29, 2006. He therefore ascended the Sultanate on 2 November 2006. He is the 20th Sultan of Sokoto. He is the President General of Jama'atu Nasril Islam (JNI), the President-General of the Nigerian Supreme Council for Islamic Affairs (NSCIA), co-chairman, Nigeria Inter-Religious Council and Chancellor of University of Benin.
Abubakar is married and blessed with children. He enjoys, for leisure, watching football, and reading. He is a recipient of national honour, Commander of the Order of the Federal Republic (CFR) conferred on him in 2007.
The Institution of the Sultanate
Well, first and foremost, I thank Almighty Allah for making it possible for us to be here for this interview session. And I want to welcome you most warmly, as I am always very proud to be associated with the Nigerian Army and its officers and soldiers, having spent most of my adult life serving the nation as an officer of the Nigerian Army. So, having been in the Army for 31 years and then ascending this prestigious throne (as you called it), I will just say that this throne, which is over 206 years old, is the seat of the Sokoto Caliphate, which started in 1804 and extended beyond the shores of present day Nigeria. The position of Sultan is prestigious, in the sense that the Sultan is the President-General of the Nigerian Supreme Council for Islamic Affairs. He is the President-General of the Jama'at Nasril Islam (JNI). He is the co-chairman of the Nigerian Inter-religious Council. The Sultan also is the spiritual head of Muslims in the country. So if you are talking of prestige, yes the position is. But I think what we believe in, the bond of the religion of Islam unites us. It is always paramount in whatever we do, and we always try to live according to the dictates of our religion.
Road to sultanate
It is the Almighty Allah that gives power to whom He wants to give it to at any time. I believe it is destined by Almighty Allah for me to be here at this time, and for the length of period He wants me to be here. There is nothing special about me being on the throne during my time, because my time was ordained by Allah and I will leave when the Almighty Allah will it for me to quit.
Honour by course mates
We are one big family that came together to celebrate one of us over the good fortune that the Almighty Allah has bestowed on him. It was also to recognise contributions that members had given so far to this country, in terms of peaceful co-existence. The turnout at the event shows that all of us are our brothers' keepers, because people from diverse background and various services all over the nation also turned up to share this wonderful experience of the 18th Regular Course family. And we thank the Almighty Allah for His mercies on us.
Between the throne and the Army
I want to make a correction: when I was retiring, to ascend the throne, I was still wearing the rank of Colonel, even though I was long overdue for the prestigious one-star General rank. By regulation, the Army Council has to sit first to approve any promotion of senior officer. Few weeks later (after ascending the throne), the Army Council met and confirmed my promotion to Brigadier General and backdated it. But unfortunately I could not be decorated. So I was still wearing the rank of Colonel when I was 'yanked' off the Army and turbaned as Sultan. I thank Almighty Allah for that. I also want to thank the Nigerian Army for recognising what we have done in the service and to the nation. So when you were talking of challenges between when I was in the Army and the present status, I think they are two different issues and background.
What I want to say is that the Army will prepare any officer to face all challenges in life. I believe whoever passes through the military or Army and retires will be able to hold himself high anywhere he finds himself.
When you join the military as a cadet, the civilian in you is removed by senior cadets. The time you graduate or pass out as a commissioned officer you go through so many courses, as a junior officer and several other professional courses of your arm of service.
You go through promotion examinations, to excel and be promoted; go through to the staff college; junior and senior divisions, go through to the National Defence College, as it is now. Whoever passes through the service and then finally retires, as a Brigadier General, will not have any problem fitting into any organisation or thinking of facing any challenge. So we thank Almighty Allah, for He made it possible for us. He prepared us to ascend the throne because I know so many things I have been doing have a touch of military training, in terms of discipline; in terms of courage, in terms of unity, in terms of strength and so many things. So I believe the military training I went through really prepared me. The Almighty Allah prepared me for this one by making me to join the Army.
I was not the only one in my immediate family that had the privilege to go through military service because I have a cousin who was there before me. So we thank God for His mercies on us. In dealing with civilians you have to be patient to really carry everybody along. It is just a matter of time. The civilians working with you, having known that you spent all your life as a soldier, show understanding by buckling up and cooperating. The challenge is not in dealing with my immediate staff, but the overall situation in our country Nigeria. I think we are doing pretty well, by the grace of Almighty Allah. We believe we have done a lot with our interaction with our Christian fellows at the highest level.
Relationship with former colleagues
Well, I have been very open to colleagues, both serving and retired. They are still close to me and they still come to me in Sokoto, or while in Abuja, and at anywhere they learn of my being around. I receive a lot of letters, E-mails, phone calls, text messages of greetings, invitation to wedding of children, invitation to funerals of parents and others to just let me know what is happening. I try as much as possible to oblige all. I don't think there has been any problem, because we have come a long way having grown up together. It is no time for us to part ways just because of change in status. The Almighty gives the individual a particular status. One must never turn his back on others, especially those in need.
Being open and accessible
Well, when I was a young officer I used to have a particular slogan written out and kept in my office. That is 'popularity is the ambition of the votes seeker, not the commander.' As a young lieutenant, I read it somewhere and copied it. I think someone shouldn't try to be popular, because popularity is something that comes with taking yourself in such a high esteem or whatever. I think that one should always try to do is his best to the people as long as he can, and to the best of his ability. We believe being open and accessible gives a lot of people the confidence in reaching out to us on issues that normally they wouldn't have talked to any other person. That also enables us to listen to so many comments about what is happening in the polity. That also gives the people the confidence to say 'look, I know that I can reach my political leader and my religious leader. Let me just go to him and tell him this.' I think, in so many cases, that helped a lot, because we got so much information on many things by our openness to the public. I think it is not by popularity but by doing God's work and God's will.
Assessment of former Chief of Army Staff
I believe and I know it too, that everything has its time. And people differ in their perception of life and service to humanity or to community. Therefore, what the Chief of Army Staff is doing now is based on his perception of what he should do to improve life of the Army community. I am sure that when he was appointed, he must have sat down to look at what he wanted the army to be, his dream for the Nigerian Army. For instance, the construction of the Shehu Yar'Adua Barracks through direct labour is a marvellous idea; more so as such a feat has never been achieved in the past. The reconstruction and upgrading of the famous 44 Army Reference Hospital, Kaduna as well as the Officers' Mess in Abuja are highly commendable achievements. I saw the Forward Operating Base for peacekeeping troops established towards the airport in Abuja. Barracks are also being renovated across the country.
All these efforts indicate serious development based on the unique initiatives of the Chief of Army Staff to improve on welfare and logistics as well as operational readiness of the Army. So what he is doing is just following his dream, or actualising the dream for the Army. I want to say we are much impressed and very proud of his achievements so far.
I also want to commend him, for his foresight in doing a lot within a short time of being the head of the Army. The Nigerian Army needs much more than they have been getting, in terms of troops' welfare and operational capabilities, improved living standards in the barracks and family welfare.
I think what the chief is doing now is in the right direction, to improve troops' welfare and living standards in their various barracks. He has also improved on their operations, from our comparison with what we had in the past. We are very proud to be associated with him; just as we are also proud to be associated with other service chiefs. I believe in what the Army chief is doing now. There must have been a foundation laid for him to build upon. I believe he is building on it steadily. Our own is to encourage him not to relent but to continue, because we believe that he is on the right track. I commend those before him who also put in their best for the country. May God bless them all, amen.
What traditional rulers want
What a lot of people, including the late President Umar Yar'Adua have been saying on giving the traditional rulers a role in the Constitution has been over-flogged. What we believe is we are major stakeholders in Nigeria project, because we are the ones who live with the people and know their pains and needs, as the case may be. We are not looking for a particular role as fourth tier of government. No! Our own is only advisory roles to the various governments. You can only do that effectively when the supreme law of Nigeria, that is the Constitution, recognises that yes you exist. We have been there in the past constitutions. But the 1999 Constitution removed that role. There used to be National Council of Traditional Rulers which normally advised the President on so many issues. It is not out of place for us to call for re-enactment. We believe we are critical stakeholders and will continue to do what we have been doing, even if we are not recognised in the Constitution.
Good governance and religious violence
We have reduced a lot of tension in the country because we used to have these crises day in day out, but they have been reduced to the barest minimum. I don't want to go too much into that. But the overall contentious issue in the country is lack of good governance. That is what really brought out all these problems to the fore. If you have good governance, people won't bother and start looking for ways to vent their anger. There is a lot of poverty, which is not supposed to be so in this blessed country, Nigeria. And we believe that we must really come together to salvage the situation. We have to keep on insisting on good governance whenever we speak; because it is only through good governance that you have a peaceful polity. It is only when you have peace that you will develop. We must have peace and stability. And if you want peace and stability, you must have good governance.
We must insist on good governance and refuse to be used as pawns in a game, which only promises misery and underdevelopment for our people. We must insist that the greatest service a politician will render to God is to imbibe and act on the eternal value the Almighty has put forth and to work in fairness and justice for the betterment of the lives of God's people. We cannot have good governance without the legitimacy, which is conferred by a free and fair electoral process. And if you are talking of good governance, there must be justice and equity in whatever the leaders do. I think I have covered so much in the last three weeks through my interactions at the Christian Association of Nigeria's National Executive Council Seminar, where I addressed them; and also at the Supreme Council of Islamic Affairs' meeting that we had some couple of weeks back, where we invited the Christian leaders to address us. The most recent was the African Union Inter-faith Dialogue, which was the first of its kind, and various other fora. Only true elections can ensure that we have good leaders.
We have many discredited elections. So we keep on demanding for electoral review, so that each person's vote must count. It is only through that we can have good government, when people vote for somebody who will be accountable to them. You can't have good leadership when leaders lack legitimacy.
Involvement in ECOMOG
Before going to the ECOMOG, as one of the commanders, I worked in the ECOWAS Secretariat as military liaison officer. So I have been very conversant with the operations of the ECOMOG. We were the ones controlling the operations of the ECOMOG and as a military man there, I was in full picture of the operations. I worked there for four years before going out as one of the commanders. I commanded the 231 Tank Battalion in Freetown. I was actively in-charge of the security of Freetown. It was a big task. And with a handful of very committed, loyal and disciplined officers and soldiers we did a lot. By the time we all pulled out and handed over the country to the United Nations troops, I could say we did our best. Nigeria did her best; because in the circumstances that we found ourselves no country could have done better. We sacrificed a lot, in terms of human and material resources. That showed how much we really care for our African brothers. Without God Almighty, without Nigeria, war could still have been raging in Sierra Leone now. I commanded a highly disciplined body of troops, which I still feel so much for. Right now the unit is in Liberia and I have been talking with them. I even intend to visit the unit as one of their own when they return. I have been keeping in touch with them due to strong espirit de corps that existed in the unit when we were in ECOMOG.
Success of military missions
Right from time when we were young cadets we were taught that before you go out for any operation you must be fully prepared. I believe this still holds water. Nigerian Army must fully prepare its units before sending them out to the mission area. When we are talking of preparation, this includes personal well-being of the troops, unit equipment and welfare of the troops and family. When sending out troops for six months or one year, they must be re-assured with the arrangements the Army has made for the welfare of the families they are leaving behind, as this will allow them to concentrate on what they are doing or put in their best in mission area. The Army should provide other incentives to the troops, such as awards and recognition for service rendered.
Relaxation and family life
This is a very difficult thing for me to do because of my very tight schedule. I move around a lot. You see me in Owerri today and next tomorrow you see me in Maiduguri or Lagos; you will be wondering how I manage. Sometimes, people say it is the military training. That's why I stated that life in the military actually prepared me for this office. It is really difficult to get free time, as there is a lot to be done now. I try to make time for my family. My kids who are still very young come around me, as I feel so much for them having been used to their soldier-father who was always with them and taking them out. But now they don't see me always, as they used to and not knowing what type of job I do now that keeps me away from them. So whenever I am in Sokoto I try to spend time with them once I close from official work. Though it is difficult to relax, I try to rest as much as possible due to my tight schedule. Whenever I travel out to Abuja, Lagos or anywhere else, so many people always try to seize the opportunity to see me and I am always happy to see my friends, colleagues and other leaders of our country. So we thank Almighty Allah for giving us the strength, courage and ability to do what we are doing for our great country.
Jos crises
Solution to Jos problem cannot be found on the streets of Osogbo, Lagos, Calabar or anywhere else, but in Jos itself. The only issue is good governance. Good governance means taking everybody along. There must be justice. There must be fear of God in whatever you do. If our leaders have the fear of God in whatever they do, I believe we will be able to have some of the solutions to the problems. We must be very committed to upholding justice and truth in whatever we do. And we must also continue to encourage the pursuit of dialogue in whatever we do. Even wars are fought to make peace. Whenever wars are fought, combatants end up at the roundtable. As I said, there is need for dialogue at all levels. There are issues identified that I think we need to really face squarely in order to find solution to the problem of Plateau, and by the grace of Almighty Allah, we will see the end of the 'madness' on the Plateau and absolute peace will return soonest.
Army's loyalty
My candid advice to the Nigerian Army is to be one hundred percent loyal to Nigeria, as symbolised by the President and Commander-in-Chief. The Nigerian Army leadership must be very strong in discharging its duties with the fear of Almighty God; upholding truth, justice and equity in whatever the leadership does. When you talk of one hundred percent loyalty, it is like life. You don't give it piecemeal. It has to come fully.
- Culled from New SOJA, a magazine of the Nigerian Army