JONATHAN BANKING ON RIGGING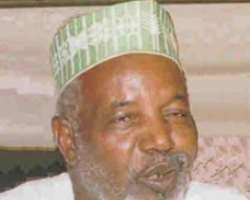 Balarabe Musa
Second Republic Governor of old Kaduna State and unrepentant critic of the current Federal Government, Alhaji Abubukar Balarabe Musa, has accused President Goodluck Jonathan of plotting to rig next year's presidential election, like his predecessors.
Musa said that Jonathan cannot win the election because he lacks political credibility, experience and structure. He is sure that Jonathan will lose the election, if there is fair contest, because he cannot stand the like of General Ibrahim Babangida and General Mohamadu Buhari. He said that the election would be rigged in Jonathan's favour, which, according to him, would bring about chaos, as it would be resisted by the opposition. He said this would threaten the corporate existence of Nigeria.
The former governor spoke of these and other things.
You were elected governor of old Kaduna State on the platform of PRP, a socialist party, how did you impact on the lives of the people using the socialist ideology?
We raised the social, political and cultural consciousness of the people of Kaduna State. We made them realise that they are the masters in the state. We made them realise that government can perform because we implemented programmes that have not been equalled up till now. For example, we met 100 post-primary institutions. We made them 200 and we made it quite clear that our plan was to reach the educational level of Oyo State, because at that time Oyo State was the most educationally advanced in the country, in our estimation. We planned to have post-secondary school institutions within five kilometers throughout the state, except where there was forest. Like in some parts of the state, there are places that you could walk for miles in the bush.
Good water supply was a problem throughout Kaduna State, just as it is still a problem throughout the state. And we decided to build boreholes. Today, there are about 1, 500 boreholes throughout the state. We established cottage hospitals; some six beds, some 12 and others more than that. We modernised our agricultural sector. We established medium sized industries. We established one of them in each of the then 14 local government areas in the state. And we promised to build a medium sized industry in every local government yearly. In those days, with N2 million, for instance, you could establish a flour factory. One of the most capital intensive companies we were establishing at that time was a pharmaceutical company in Zaria, which cost N25 million. They have all now been privatised.
So, what do you think led to your impeachment?
Oh! simple, the NPN, which was the ruling party then, did not want me. I was a product of the PRP. We didn't have the same political ideology; they were capitalists; we were socialists. Unfortunately, NPN members dominated the House of Assembly. That made the impeachment possible.
After your impeachment, did the next government continue to build on your effort?
No, they sold them. Immediately PRP left, they deliberately sold these companies because they needed the money for bribery.
After the Second Republic, politics in Nigeria became a money affair. It became commercialised. There was no more politics of faithfulness, selflessness or service; it became politics of opportunism and commercial enterprise. We now see it in every level of corruption.
In short, the PRP has been phased out. Money power is the deciding factor in parties and elections. So, you know what can happen to a proletarian party in such a wholly capitalist environment. PRP could only have two local governments in Kaduna State. But throughout the federation, we have 62 parties, and less than 10 of us have a councillor or two. We have this stifling scenario because there have not been elections in Nigeria but selections by the powers-that-be, the moneybags.
How can the present hegemony by the moneybags be dismantled?
There must be a revolution, because those who have the money have dominated the terrain. I mean revolution, in terms of taking fundamental positions, whether social or political. It could be a fundamental political decision. Now we have a big problem; we cannot have a free, fair and transparent election leading to a legitimate government. Every Nigerian knows that and we are saying we want to have this. If Nigerians can work out a revolution and demand by any means and all means credible electoral process leading to free, fair, and credible elections, if they stand for it, we can have a political revolution, a bloodless political revolution because our votes would then count and in that way Nigerians will determine who rules them. That is a peaceful political revolution. But it pains me that this scenario is not going to be possible in Nigeria.
Does such revolution involve an insistence on digitalised electoral register, as demanded in some quarters?
That is not as important as making sure that these thieves that stole money cannot use that money to declare themselves winners in elections. The digitalised system would not stop that. It is only the consciousness and determination of the people that would ensure that there is no rigging.
How will the people do that?
In the first place, they should make sure that there is a credible electoral process. I am afraid, however, that there cannot be. I will give you a reason there cannot be a credible electoral process. Look at the recently amended 1999 Constitution and the amended Electoral Act; you read them and you will find out that there is nothing stopping the deciding role of the money power. Everything has been done in favour of those who are rich and powerful and the ruling party. I will give you an example. You know that in spite of all these talks about credible electoral process, leading to transparent, free, fair elections, to produce a legitimate government, there was recently a by-election in the North East. About what happened, the media was deceived to announce that the election was peaceful but they cannot say that it was free and fair. And from the stories we have heard, nothing has changed from the attitude of the rich and powerful to declare themselves winners in our elections. In fact, from the reports, votes were bought at N1, 500 freely. In some polling stations, the police dared not even go there because thugs took over.
Let me give you another example. Bode George and four others stole N84 billion and they were jailed for that, but for how many years? Only two years. And the money was not recovered from them. In the 1999 Constitution, there is a provision, which says that anyone found in office committing administrative misconduct or convicted for a criminal case must wait for 10 years before contesting. In the amended constitution, the Senate is trying to remove that so that you could be in prison and still contest. Bode George couldn't have got a two-year sentence, just like that. He was jailed but the money not refunded. With such situation, what stops them to make nonsense of any election? So, you see, we are not going to have credible free, fair and transparent elections leading to a legitimate government.
We are going to have something, which the thieves would call free and fair elections and with our non-combatant attitude we will accept it.
All the indications for these scenarios are here already. Time is already not on our side. But how long shall we continue in all these? How long are we going to continue to have a government that is insensitive to its subjects' plight? How long can we continue to have this kind of poverty and marginalisation? Some day people will rise.
Why are you against President Jonathan contesting in 2011 elections?
First of all, irrespective of his party, the president is supposed to be a symbol of honesty, integrity, dignity and honour. Jonathan became the president because of the zoning system of the PDP. And he ought to honour it. Whatever attraction, if he fails to do so, it is not honourable. What do you think of a president whose actions cannot be said to be honourable? As difficult as it may be, he has to honour it because that was the arrangement that led to him becoming what he is now.
Secondly, that party says it is maintaining zoning. A president of a country is not a motor park leader. What a motor park leader can do and get away with or can even be ignored, a president, who is a symbol of a country, cannot do so. He ought to maintain that zoning system and irrespective of his party, we want to see a president that can honour a pledge and he could not honour it. So, how should Nigerians see him? That is one.
Secondly, one of his four-point programmes, during this end of the term, is that he will see to it that there would be a credible electoral process leading to free, fair and transparent elections. Will that be effective when he is a contestant in that election? Is he not playing on the intelligence of Nigerians?
Thirdly, this is a man who really doesn't know about winning elections. I know he contested election as a running mate of someone. That was the time of Alamieyeseigha. He was attached to Alamieyeseigha but you and I know that it was Alamieyeseigha who was elected, not him. And then from there, he became the governor. He became the vice president without winning an election. He became the president without winning an election. So, he doesn't really know about winning elections. Now he is embarking on it with masters. And he has nothing to show that he can beat these masters. I mean the like of IBB, Buhari and others. He has no better credibility, no better experience. He is just relying on luck. Should a president do that? And he is still so young.
When it becomes the time of the South South by 2015, he will have a better opportunity than anybody in the South-South. In fact, by the zoning system, the next turn should go to the South East and I am sure by then they would not even resist. In 2015, they will let him have it and wait for 2023. But with the present attitude of abandoning zoning, in the first place, he cannot win the presidency in 2011 without massive rigging, which can bring anything in this country, because Nigerian people have suffered enough. So, he would not win in 2011. And he will be destroying the chances of the South-South or South East of ever having it. Do you think this country will continue peacefully without this zoning going round? Why should this man be indifferent to that reality?
How is he doing this?
IBB is contest. What weapon has he that is more effective than IBB? If the two are allowed to fight it out, what would happen to Nigeria? A break-up? And this is just because of the ambition of a young man who has got into power only by luck. But you know luck doesn't always last. Why doesn't he just allow this zoning to continue? What wrong would he have done by allowing it? North will have its own, ending by 2015. I know his people will be saying that this is their opportunity and that the thing should go to one who merits it, irrespective of which part he is from; but do we have such maturity in Nigeria yet? The Americans have that; that is why an Obama was produced, but in Nigeria we don't.
What do you foresee as Jonathan has discarded zoning?
If the zoning is discarded, it practically means the North will continue to rule.
How will that happen?
Ok, let us go back to what gave birth to zoning. It is because the North dominated the presidency simply because of its number and its capacity to manage the federal character of the country. Let me tell you what happened. In 1978, the South, I mean the core South, decided that presidency should go to the North. Do you know why? Let me tell you, it is because the southern bourgeoisie saw the prospect of being rich because of the oil and they didn't want the military to come back and deny them that opportunity to make money out of the oil, as it was all over the nation. They reckoned that to prevent the military from coming back, they needed a northerner to be the president. Do you know why? It is because they knew that a northerner has a greater political base than any other region to restrain the military from taking over. What happened was that the South forgot the dichotomy between the North and South. So, the South West and the South East, in particular, felt that the North must have the presidency.
And they brought a northerner that even the North would not reckon with. The South West, in particular, using its media, campaigned for Shehu Shagari, who didn't see himself being anything more than a local government chairman. They made him beat Awolowo. The South West media ran down Awolow; the rich and powerful people of the South West ran down Awolowo to favour Shagari; the election was rigged in favour of Shagari.
We ought to have gone to a second ballot, as Shagari didn't qualify, according to the constitution, but Richard Akinjide and his loyalists from the South West went to court and produced a two-third majority made in the court, which made Shagari president. In fact, what should have happened was a run-off between Shagari and Awolowo and Awolowo would have beaten Shagari because even the North would have voted for Awolowo because they knew Shagari could not make it. It could have also been a run-off between Waziri Ibrahim and Shagari, but instead of that, Obasanjo installed Shagari and the North East, South West, and the South East agreed because it was the decision of the South West bourgeoisie that let us put this man who has the constituency to restrain the military and who we can use because he didn't have the intellectual capacity or something like it. The southern bourgeoisie didn't want the like of Adamu Ciroma, Maitama Sule because they were intellectuals. Before this happened in the 50s, didn't we have a situation whereby, because of the problem, Zik and Tafawa Balewa were fighting. Zik refused to recognise Shagari, but because of lobbying by the South West, Zik had to withdraw his objection and Shagari became the president. When it suited them, didn't the South East and the North conspire to bring a state of emergency in the West? Didn't they conspire to bring out Midwest from the West? So, this question of bargaining for power within different regions of the country has been going on over time. The articulation of it is this zoning.
Do you know that everyone in Nigeria has bought this idea of zoning? It is in all facets. Now why does he want to stop zoning when he knows the implication? Throughout the country, we had three zones, North, South and East. Later the Midwest was added. Today, we have six zones and you can see when it comes to the presidency, there is always a bargaining within these zones before you have a president. The South West can't have the president; they know it; even in Obasanjo's time, they didn't want him, but because other zones wanted him, he was brought out of the prison to become the president. You always have this and it is only through this bargaining you have a truly Federal Government. The North goes with the South West or with the South South or the South East. If you abandon zoning and choose voting on merit, merit is based on votes. Haven't the North greater votes than either South West, South South or South East? We know the North itself is not homogenous, but by and large it is more homogenous than others, which means that the North will always dominate the presidency. Are we mature enough for this? No, we are not. But by the time it goes round by zoning, then everyone will have a sense of belonging theoretically. It is a feeling that certainly helps bring harmony, stability and peace. So, why should somebody coming from nowhere just disturb this? Let me ask, has the South South not always gone along with the North in this country since 1950?
Why was it difficult to agree on amnesty, in spite of all that Obasanjo did to get peace in the Niger Delta, throughout the eight years until when Yar'Adu came in?
Everyone of the South South knows this, particularly Edwin Clark. He knows this.
Jonathan contesting for presidency becomes an issue because of the supposed power of incumbency, but that does not mean that he would win.
Can you give an assessment of the other presidential candidates, bearing in mind that by zoning, the slot goes to the North?
Let me flash back a bit. Why are all the presidential candidates from the North, except Jonathan? Why have other people who also nurse the presidential ambition not indicated interest? It is simply because they also accept the continuity of zoning. Now you ask me to assess. But this assessment will be in a vacuum because before there can be an assessment, there must be a credible electoral process leading to free, fair and transparent elections. Do we have that now? How can we judge? I think what is likely to happen is that Jonathan will misuse incumbency and rig for himself and it will be resisted and that would surely cause some problem.
What is your party's plan in the coming election?
Our position is that we have formed a coalition, which is called Coalition for a New Nigeria (CNN). In 2006, we saw the danger in 2011; we saw, in particular, the possibility of experiencing the worst rigging ever in the country. So, a number of political parties came together to form the CNN. And we committed ourselves to nominating one presidential candidate to compete with PDP in 2007 elections and we decided to beg Buhari of ANPP. You know what happene; it is history now. Early 2009, we knew that what happened in 2007 will be repeated in 2011. And we have to avert it; so we came together again to revive the CNN, but instead of seven parties, there are now 23 parties. We meet regularly and our intention is to support one presidential candidate for 2011 elections and for all other elections, we have organised ourselves in such a way that choosing our candidate would be through a consensus.
Do you have a presidential candidate now?
No. We are still preparing for a democratic and patriotic alliance. After this, we will decide fully. We have the leading parties such as Labour Party, APGA and Buhari's CPC as part of the alliance. And they have strategic advantages in states.
What about the ACN?
Although, the coalition idea started with ACN, because we were together at the mega party movement, they are not part of it. We hope as time goes on, they will come back. ANPP will know they are out of the question, although we welcome individuals but not the party.
You once contested for presidency. Do you still have that ambition?
I will not for now contest or accept any appointment in government unless I am part of the team that brought the government into place. Our resolution in PRP, my party, is that we would not participate in a government we have not helped to installed. By the time the coalition succeeds, I would have contributed to the government and then can participate.