Emeka Ike drags AGN to court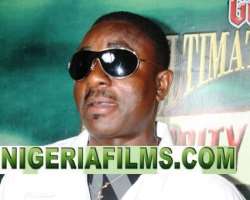 As you are reading this piece, fresh crisis is brewing in the the Actors Guild of Nigeria(AGN) as factional president of the guild, Emeka Ike, has perfected plans to drag the leadership of the guild to court over what he calls 'illegal occupation of office by the incumbent executives'.
Ike who just returned to the country last week after few weeks of holidaying in the United States of America with his family, confirmed to HVP on telephone that his lawyer has already filed a case against the leadership of AGN.
He disclosed that any moment from next week, the leadership of the body will be served with a paper to appear before the court.
Though Ike did not clarify whether the case will be brought before the Federal High Court, or the High Court of Lagos State, sitting in Ikeja, he said his decision to go to court was borne out of the need to reclaim his mandate.
"They thought I was going to use a violent means to reclaim what rightful belongs to me.
No, I'm not joining issues with anybody. In as much as there's justice in this country, I will get it. All the stakeholders collectively gave their consent to my election as president of the guild. I will stop at nothing to get justice," he vowed.
Recall that the chairman, Board of Trustees (BoT) of the guild, Mr. Ifeanyi Dike, last month announced the banning of Emeka Ike by leadership of AGN for what they called his "gross misconduct and anti-guild activities." Dike insisted that the ban stays until, Ike apologises to the guild. But Ike would not be cowed either.
The face-off between the Board of Trustees and Emeka Ike's faction of AGN started last year when the former decided to form a government of national unity that would be headed by Segun Arinze.
Dissatisfied with the board's decision, which they claimed was unpopular, a faction of the guild headed by the then care taker committee chairman, Kanayo. O. Kanayo, went ahead to conduct an election which produced Emeka Ike as president.
But the BOT maintained its decision that Segun Arinze remained their recognised National President, as Ike has refused to throw in the towel.