Entertainment industry has done well –Bambino Anachina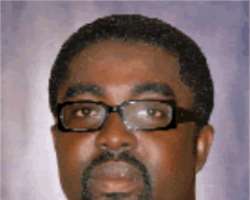 The showbiz impresario, Bambino Chukwudi Anachina, is not a stranger in the entertainment industry, where he had put in well over 25 years. He has featured in several Nigerian films and home video.
A product of Federal Polytechnic in Oko, Anambra State, South East Nigeria, the Anambra State born Bambino is currently the Production Manager of Guepard Production, an audio-visual creativity outfit in Victoria Island. He is also into documentary for Family Care Association, which is concerned with giving medical aid to rural people.
In a chat with Akinsola Omidire, Bambino assessed an assessment of the industry, what Guepard is all about and the artiste on the label.
How I started
I started as a kid back in the days when we were doing all the former children shows till after school, when I had to be doing it professionally, which led to my advent in Nollywood.
Guepard Production
Guepard Production is a registered production company doing business in Nigeria with its central focus on audio-visual creativity. Recently, we had Guepard Records Label, a branch of Guepard Production, which is the parent body. We have a multi-faceted angles to which we carry out business. It is a kind of start to finish initiative that will see some Nigerian artistes having the best from the record label. We take songs from the scratch and ensure that we follow it up through the promotion of the person till the artistes is groomed.
Artistes on the Label
We have two artistes for now, J2D, a duet that sings Dance – Hall, the other one is Lesoul, an R & B artiste, who sings the slow jams stuff.
How the Industry has fared
Life has done well. We have made much noise. Go to other African countries, they watch Nollywood movies. It is something to be proud of. They listen to Nigerian artistes too. I'm so proud about it. It is just that sometimes, we find it really difficult to appreciate our own, that is the major problem we have in this country. This attitude should change. I'm a student of realism of entertainment progression and I like when things are properly done.
Recently, if you check the industry, you will find out that you can't really differentiate what they do in America with what our boys are doing here. They are doing wonderfully well. They are singing well. To be candid, the industry has been great.
Challenges
Life is a great challenge. I was having a chat with a colleague of mine the other day that if there is constant power supply, half of our problems would have been solved and cost will not be what it's supposed to be. But the problem is that whenever you you're trying to do one thing, another thing will come up. We are too forgetful because we are happy people. Another major challenge is for the government to create an enabling environment for practitioners to have a field day. It's always difficult if you're working in an environment, where you have so many hazards and a lot of things are affecting the progression of your creativity. I look forward to that day that Nigeria will have uninterrupted power supply for a year and I tell you every other thing that we are actually bothering ourselves about will come to a fullstop.
Commitment
It is not about how long, it's about how committed one is. There are some artistes that will just enter with their demo and within one week, the album will be out and it will sell. But there are still some other artistes that will take months or even a year or more to produce their songs and get them into the market. That is why a thorough job has to be done, which is basically what we do at Guepard Records. Gone are the days when you just come out and sing Gbim, gbim and everybody will just listen. Now, they listen and criticize the lyrics, production, video and all other aspects of the songs. So people are more aware now unlike those days, when you can do things and get away with them.
My role models
My mentor as is Tony One Week. He trained me beyond what I learnt in school. Before now, I was looking at Pete Edochie. I saw Edochie in Things Fall Apart and I said this is a man that suggests the future of what I actually want to raise and I came into the industry.
But beyond that, Tony One Week is the first person that put me on national television, the defunct Minaj Broadcasting International (MBI) and he was the person, who really gave me the platform that brought the best out of me.
My father is also my role model. So basically, my dad, Peter Edochie and Tony One-Week are the people, who inspire me.
Future plan
I intend going into politics after leaving the industry. I love politics so much, though not as it is practised in Nigeria. It's actually the practice that is the problem but the profession is a wonderful one. I like politics, but what I don't enjoy is the campaign of calumny that they imbibe in Nigerian politics, which is not very healthy. They've made it to appear like a game of mudslinging and that is not what it stands for, which is about interest and how to give back to the society. It has been so monetised that it's gradually losing the essence, which is not very okay. So, for that reason, I think we have to change our mindset and ideas about certain things. Somewhere in the future, I belong to the political class. It might be by contesting or by appointment.