Jonathan Thanks Nigerians, Promises To Deliver On Promises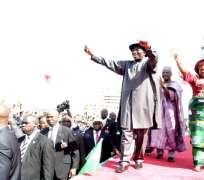 ABUJA, Sept 21, (THEWILL) - Smarting from the impressive turn out at the formal declaration of his presidential bid recently on Saturday, President Jonathan today reassured that he would deliver on his campaign promises to Nigerians.
"We are determined to build a new nation, and set us irrevocably on a
path to catch up with and indeed overtake our peers of yesteryears. With the support of you all, we will deliver on this promise. We shall burn our candles at both ends to deliver on electricity; we shall reverse the decades of decay that have beset our infrastructure; we are determined to put our economy back to work for the sake of our people. We are determined to continue to deliver on the promise of a good life for all Nigerians.
"Once again, we thank you for your overwhelming support. The time for transformation is now, and of this, there must be no doubt! We are determined to continue to deliver on the promise of a good life for all Nigerians," the president said in a statement he personally signed and released to the press.
According to him, the capacity crowd at his declaration ceremony would go down in history as a day that Nigerians spoke in one voice in his ability and that of his Vice Namadi Sambo to transform the country.
The statement in full: "Last Saturday, I formally declared my intention to run for the office of President of our great nation in the 2011 general elections with Vice President Mohammed Namadi Sambo as my running mate. Because of you, the great and untiring Nigerian people, the event was a huge success, and will continue to echo down our annals as a day that we all spoke with one voice, in unity, solidarity and faith in our ability to transform Nigeria. I thank you all.
"The distinguished audience, the record attendance by Nigerians from all walks of life and the joy and gaiety of the occasion, stood as an eloquent testimony that our message of hope and commitment is resonating exceedingly across the land.
"Vice-President Sambo and I wish to join our Campaign Organization to express our heartfelt appreciation to our elder statesmen, the leadership of the National Assembly, State Governors, Distinguished Senators and Honourable members of the House of Representatives, Captains of industry and titans of commerce, women's groups, youth and students, who besieged Abuja and particularly Eagle Square to join in the occasion.
"We thank the various entertainers, musicians and stand-up artistes, actors and actresses, who spiced up the audience, galvanised and inspired the youth whose future we are committed to serving by ensuring a greater tomorrow for our country. We are also grateful to the millions of Nigerians who witnessed the event at home and abroad via the electronic media and the internet and for their messages of hope and encouragement.
"We wish to reassure Nigerians that commitment to the transformation of our country is unwavering. There is work to be done, and in the last few months we have rolled up our sleeves to tackle those issues that still hold us in the back waters of development. We are tackling power, security, infrastructure and the economy. Our war on corruption has revved into top gear with the high profile trials going on today."