Zealot's Biography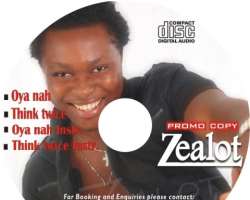 Zealot's real name is Eguzoro Emmanuel, born into the family of Mr. and Mrs. Collins Eguzoro. He hails from Ngor-Okpala LGA of Imo State. Was born and partly brought up in Port Harcourt city, Rivers State, he relocated to Lagos with his mother and siblings after his father's demise, where growing up with other youths of St Joseph Catholic Church, Gowon Estate Ebgeda Lagos, helped him discover how lyrically blessed and talented he was.
MUSIC BACKGROUND
As a youngster, he never limited himself to any kind of music, he would sing other musicians songs and most at times remix the songs and as a result his mind was musically developed, enriched with melodies and rhythms of all kind enabling him harness his song writing ability which started with poems. He was partially musically inactive until he was done with is first degree in 2005 (Economics, ESUT). Together with his brother they found Matchless Records and established Matchless studio in Port Harcourt where he started recording -way back. After concluding his NYSC Scheme in 2007 he decided to do music professionally.
Zealot's brand of music is called music "Zealotry" because he interprets music the way he feels it and that has enabled him to find his niche in the music industry.
Ever since then, he had attended several shows hosted by multi-national companies like Guinness Nigeria PLC and Etisalat most in Port Harcourt and a few in Lagos. He has worked with great minds like I.D Cabasa, Jay sleek, Duncan Mighty, Nemesis and a host of other producers. His is presently working on his debut album titled "NECESSARY NOISE" which will hit the market before the end of 2010.
Zealot's singles "OYA NAH" (a dance hall song which Jay sleek produced and featured in) and "THINK TWICE" are currently enjoying fabulous air play and general public acceptance.
Zealot 's web review
You can check out Zealot's review on the following websites:
http://www.facebook.com/home.php?#/home.php?ref=home
http://www.facebook.com/pages/Zealot/76370221856?ref=search&sid=1548588234.1039341398..1
http://nigerianhiphop.net/blog/2009/07/19/zealot-oya-nah/
http://allejo.com/2009/08/02/zealot-oya-nah-audio-song/
http://www.streetnaij.com/
Contact
Label: Matchless Records
Phone: 08033226072, 014395559, 07040434484
Email: [email protected]