HOODLUMS SHOOT POLICEMEN, SET VEHICLES ABLAZE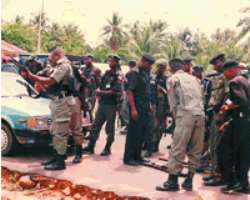 Police
Hooligans, numbering over 100, shot and injured four policemen at Aakasun Ilasa village area of Ado-Odo Ota Local Government Area of Ogun State.
The aggrieved men, who were alleged to have laid ambush for the police officers who came from the Force Criminal Investigation Department (FCID), Abuja, alongside their counterparts from Ogun State Police Command on a fact-finding mission, also set ablaze a police operational vehicle with security operation number AS 490 GWA.
Other vehicles also damaged and set ablaze with the operational vehicle included a Nissan Pallet, registered number XP 416 AKD, and a Mercedes Benz 190 Saloon car, with registration number JB 55 KJA.
A top police officer in the area, who craved for anonymity, told Daily Sun that the injured policemen had come to the area last Thursday with some suspects over the alleged murder of a 45-year old motorcyclist.
'If not for the maturity exhibited by our officers, the incident could have led to exchange of fire between the parties and only God knows what could have happened,' he said. He disclosed that the injured policemen were currently on danger list in a government hospital.
Crisis had erupted in the area following a Supreme Court judgment delivered on December 18, 2009 by five justices of the court, declaring the family of Sule Asade as the owner of the vast land in the area.
Dismissing the appeal filed by the appellant (Lasisi Ogbe), the presiding judge, who read the lead judgment, Justice C.M. Chukwuma-Eneh, had said, 'I find no merit in the appeal which I hereby dismiss.
The decision of the court below and the appellate High Court are hereby affirmed with N50,000 cost to the plaintiff.' Other justices of the Apex court that agreed with the judgment were Justices Iyoryyer Katsina-Alu, Mahmud Mohammed, Ikechi Francis Ogbu Ogu and M.S. Coomasie.