WHY I WANT TO BE SENATOR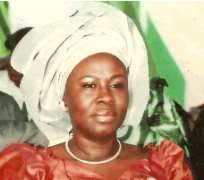 As preparations for next year's general elections gather momentum, Mrs. Comfort Chukwu, former commissioner for commerce and industry, in Imo State, has declared her interest to contest the senatorial seat for Okigwe zone.
She said that her decision to join the senatorial race was based on the desire to contribute her quota towards the development of Okigwe senatorial district,
Mrs. Chukwu spoke on her aspiration and other things.
It is now clear that you want to run for Okigwe senatorial seat of the National Assembly. What actually informed your decision?
Yes, it is true. I want to run for Okigwe zone senatorial seat and the motivational factor is my passion to make a difference and to honour the future. I want to be a part of building a self-reliant society, which values questions more that answers, a society, which values excellent individuality than uniformity, to be part of an accomplishment, where every human being in that society matter. That is why I want to run.
Do you have the support of your husband and family in your senatorial ambition?
Definitely, yes. I have the support of my family. Somebody, who has this kind of ambition, cannot conveniently pursue it without the full support of the family. I have their support.
As a wife and mother, how do you intent to cope with a dual responsibility of family and office?
I have to answer this question by posing questions to you. How have I been able to cope as a commissioner in the ministry of education, commissioner for the then Ministry of Works and Transport, and again Commissioner for commerce and industry? How have I been able to cope as a mother and a student when I was in the university pursing further degrees? How did I cope as a social worker in England, going to work, defending the vulnerable in the court and still taking my children to school and looking after them after school? The challenges are there, but I thank God I am one born to take challenges. I have the inner strength and I am prepared. I have then psychologically attuned to these challenges. They are not going to pose any problems for me. These are things I am used to and hopefully I should be able to deal with them conveniently.
What is your focus politically?
Well, I think I have actually answered that question. As I said earlier, I am in the race to make a difference; you know, we live in a society where the winner takes it all. Thank God, I have a different orientation, having experienced both worlds, a developing society or about to be known as a developed society, and the developed world; so it is easy for me to bring in my experience to bear on our potentially developing world to ensure that residents of my immediate environment or my zone derive the benefits of that representation that I will be at the Senate.
You just mentioned developed world. How would you compare democracy over there with the type we practice here?
Democracy is a universal system with a universal definition, but the scope and practice, I can tell you, makes the difference. It depends on the character or quality of individuals you are talking about. A lot of factors come into play in democratic movement here. We are thinking about people's level of mental development, people's level of civilisation and you are thinking about the standard of living, the quality of life of the people. Unfortunately, I find it difficult to make this comparison because there is no basis for it at all. There is no point going into this, because Nigeria is yet to be known as a developing world because we still have a long way; but it does not rule out the fact that we have really achieved quite a lot.
Madam, let's be precise now. You want to take Okigwe senatorial seat. You know we have someone there already, in the person of Senator Sylvester Ndubuisi Anyanwu. How would you think you can make it?
I don't want to begin to talk about my focus at the moment. There is somebody there who is representing the zone and I do believe that the people are not satisfied with what has not been achieved. I can conveniently tell you that many things are desired in the zone. The incumbent has not really carried the people of Okigwe zone along. I have to point out the wrongs to be able to convince people. I will not tell the people that I am going to bring down heaven, but there are reasons people represent the grassroots or the people at any level. That is why the government, on paper, has made it compulsory that constituency projects should be taken down to the grassroots. They are heavily funded. I know that constituency projects are projects that governments, at various levels, pay for. They are heavily funded, to the extent that they want you to go home and tell the people that you are providing them that effective representation.
There is something I have in mind, which I am not going to talk about now. I am passionate about rebuilding the educational system. I will work with the governor to ensure that Okigwe zone's educational system is properly focused, to enable our children access quality education and to study under good environment. This is critical because you can send a child to a school where the child does not have access to ordinary toilet to ease him/herself when pressed, there is no way such a child would concentrate in the class. It is either the child wets him/herself or goes out to do it anywhere, and you know that there are air borne diseases. There are so many things one can embark on to touches lives of everyone in the zone. We are not talking about individuals. Those constituency projects are meant to benefit all and sundry.
You just resigned your appointment as commissioner of commerce and industry in Imo State. It is said that power and security are important in business. What do you think?
I can tell you that since the coming of the government of Dr. Goodluck Jonathan, power has improved. At least, the power you are enjoying in my house now is PHCN and not generator. I am not an expert in that area, but I think if we can harness our energy, things would be much better. Do not be surprised that Nigeria supplies electricity to Lome. Why are we not enjoying it? Somebody has not done something right and it seems that this problem is revolving around our managerial ability. People in top management are not showing honesty in what they do to ensure that we enjoy electricity. We have all it takes to get it right. We have water here. We can generate electricity from water. However, let us not solely depend on electricity via dam and all that. We can also enjoy electricity by converting waste to power. We can use solar energy. These are areas we can explore to ensure that the problem of power is dealt with.
It is obvious that security is key to business development. How do we tackle the problem of security?
I totally agree with all you have said about security. I think that part of the problem is unemployment. You see graduates that would not have jobs six years after graduation. That is why they engage in social vices and in turn destroy our security system. Coming down to Imo State Imo, I can assure you that we are doing much to ensure security of life and property. We assure investors tat they are safe and we ensure that. Imo is safe. The state government gives the police all the necessary support.
What would you say gives Imo revenue?
That's a big one. However, I will be frank with you. When we came in, the IGR of the state was at its low ebb. I think it was about a N100 million or a little above that. Now, we get more that N500m per month. I think the government deserves some kind of accolades for that. We generated revenue through the ministry of works because we have to award contracts and people have to pay to buy forms and all that. The ministry of commerce also generated revenue. I know we can do better than that, any way. In Owerri, Market, for example, we can generate a lot of revenue if we organise ourselves. Business premises alone in Owerri can give the government over N50million.
What considerations are being made not to over tax the people, in view of the poverty rate?
I know that the government of Ikedi Ohakim is a sensitive one, hence when we started this IGR drive, we told the local people to pay the basic, which is about N2, 000 a year. The problem is that our people do not want to pat tax. You will see a woman who has a business of over N2-3 million, but would not want to pay N1, 000 or N500 business premises fee. I don't think any individual is over taxed. As a salary earner, I pay my tax every month. I am paying my dues, whereas some people who have big business and makes more money than I evade taxes. It is not right. Nobody is over taxed.
Let's go back to your ambition of becoming a senator. How do you intend to use your office as a senator to better the lot of your people?
Matters concerning the youths have been giving me a lot of concern, especially in my environment, Okigwe. We have a problem of unemployment. If nothing is done to ensure that the youths have access to quality education, have employment opportunities, things will worsen. I will be part of the program to create employment. I have encouraged our youths to access the opportunity being offered by National Directorate of Employment (NDE). The opportunities are there. I will encourage them to be self-reliant, to acquire skills. If you are self-reliant, you won't go and work for somebody.