2011: JONATHAN WILL MAKE THE DIFFERENCE – AWUSE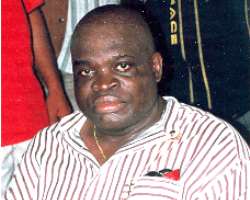 During the General Ibrahim Babangida transition programme one name that reverberated in Rivers State was Sergeant Chidi Awuse. He was a frontline politician and eyed the governorship seat. He however could not actualize his ambition.
In 2007, he also vied to be governor of River in the Democratic Peoples party (DPP) after he unceremoniously left the Peoples Democratic Party (PDP), which he was a founding member. He also lost the election.
Now Awuse is back in the PDP and he said that there is hope that the party would do thing right. In this interview, he talked about his political activities in the past and now.
You have been out of the scene for sometimes, making people to think that you are no longer political relevant. What is happening?
I just started again in the PDP. I am happy to be where I am. If you ask me whether I am ambitious, I would say that every political being is ambitious. But am not ambitious beyond what my destiny. I am ready to be on line, follow my leaders, work for my leaders and follow them, help them to grow, make them to be my own helper. I pray for them to grow so that they can also pray for me to achieve my own destiny. I don't want to jump beyond my height because if I do so I probably would fall and fall again now will be a final fall.
So I am back to PDP. I was never expelled from the party. I was only suspended and out of anger I decided to leave the party for my own safety. But I am back to the PDP because I see some glimpse of hope that things are beginning to take the right shape. Since the party says one man one vote the president of Nigeria, under PDP, is saying one man one vote, I believe them and if that is the case I want to be part of one man one vote and wherever one man one vote takes me to I am ready to land in that particular shore without regret. If it means that I am an ordinary member of the party, let it be. I don't mind.
Many people have seen me as a failure politically, because I have not been able to achieve what I had set out to be, but I don't see myself as a failure. I see myself as going through the parts of nature, passing through the various wilderness, going through the various red seas to reach my destination. Because the destiny of everybody is decided by the creator, the God Almighty. I have come to believe that I cannot go beyond what my destiny has said. Remember, you cannot be denied your destiny. Destiny can only be delayed. So I don't know what my destiny is. I have come to realise that I have to fall in line with the word of God and be able to be who I am, to see whether God can show me the part to achieving his own desires for me in life.
That is why I said that so many can see me as a political failure, but I don't see myself as a failure. I know that I am a critical person who tried to follow what I believe was right. To that extent I continue to be what I am. I am not ready to jump the height I can go.
Why did you have to leave PDP when you are one of the founding members in Rivers State?
Well, sometimes things happen. There is no need of flogging a dead horse because these are historical things. Those who were active members of the party know that I was there at the beginning of PDP, in Rivers State. I helped the party in my own little way and those who were there can attest to the fact that it was a selfless service on my part. People know that PDP became a controlling party in Rivers State because we won the majority of the local government areas during the first elections. It was the aggravation of the local government results across the nation that gave the PDP the biting teeth that they have today. I was a key player then. But I leave history to judge where I have gone wrong.
I cannot remember how many of my men won the election, but I can attest to the fact that majority of my boys were chairmen of various local government areas and I know that majority of them became chairmen of the party at various local government areas.
With this kind of controlling strength at the grassroots one expects that you would have emerged as governor at the time. What happened?
It wasn't so because of both human factor and natural factors. Perhaps, natural factors played more roles because if this thing was going to happen, the human factor would have been subdued. I think that God did not want it to be at that time. I don't want anybody to take credit for stopping me. I don't want to also say I know why it didn't happen. Only God decide what one would be. God stopped me from being the governor and I am happy with the verdict of the Almighty God. God is the beginning and end of our lives. He is the author of your faith. He knows you from the day you were born. I am happy that God kept me alive. I have no grudges against any body.
What do think is stopping Ikwere people from producing the governor of the state?
I don't know. You can't look at people in the faces and know their minds, especially in the game called politics. You might get somebody who said yes I agreed with you, but right at the back of his mind he may say no. And you have no means of measuring what is in one's mind. So, I don't have answer to your question. Maybe, there are many forces that worked against the ethnic group and I. I don't know whether that actually contributed to it. Of course, there were a lot of political forces against me at the time. I wouldn't mention names. I have decided to go beyond that and move forward.
Why did you return to PDP after what happened?
There is a little bit of hope. Okwesilieze Nwodo himself was beaten, at one point, by the system and he is back. He was national secretary of the party and was practically chased away by the party. Now he's back as national chairman. I think he has relevant experience to turn the party around. That is one of the fundamental reasons I came back because I like to learn from experience. His coming back inspired me. He was part of us in the Action Congress (AC). If he can come back to PDP it means there is hope.
Could you tell us about your experience in AC?
It's a story I will not like to repeat on the pages of a newspaper; it was a very bitter experience. I will rather leave it out. Perhaps, when I do my memoir I will state all I went through in AC. It's an experience I'd rather leave behind me and reserve for a very important page in my personal memoir, which is going to come out soon and when it comes out I will invite you for a review (laughing).
But one thing I have learnt in politics is that there are no permanent enemies. People say there's permanent interest. I say that what matter are permanent friends because it is interest that brings friends together. Permanent interest brings permanent friends. That is why I have no enemies today. I have resolved that I won't have enemies.
What ideology would you say our politics is anchored on?
We don't have ideology in Nigeria. I am sorry to say this, but the truth is that we don't have any ideology. Do you know that the best political arrangement we had was during the SDP and NRC? The government then wanted politics of ideology. Nigerians were compelled to have an ideology. I want to classify myself as a moderate capitalist, who sees the interest of the people as important.
Are you going for any elective position?
I don't know. When you are running a race and at a point you decide to give a break the race will not stop. The race continues. I have done quite a few relays in my race. I played a role previously. I will still play a role, no matter how small.
I will consider all the options.
President Goodluck Jonathan is believed to be interested in contesting next year's presidential election. What do you think?
That wouldn't be a bad option. I believe that the president should be given a chance. I don't think that after 50 years we will still be talking about zoning. I think we should really dwell less on where a leader comes from. We should talk about a president that can deliver; whether it's PDP or DPP it doesn't really matter. I have always maintained that position.
When I fought for the governorship of Rivers State, during the SDP time, I told the people of old Rivers State that there was no point saying that because one ethnic group was in the majority the minority cannot contest. Then, the upland was in the minority when Bayelsa and Rivers State were one. I said then that the best must rule.
However, I didn't say that it should be done to the exclusion of others. I said give everybody a chance. I want to say and continue to insist that Nigeria should talk more of quality to deliver and not priority of zoning.
Why do you want Jonathan to contest?
I believe he would deliver.