ASSOICATION OF MOVIE PRODUCERS (AMP) ELECTION :PAUL OBAZELE FLOORS ZEB EJIRO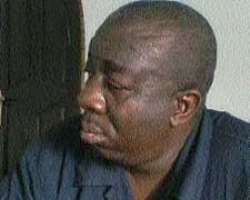 Last Friday Paul Obazele in a landslide victory defeated Zeb Ejiro during The Association Movie Producers (AMP) general elections held at the National Theatre Iganmu, Lagos. AMP elections under the leadership of Madu C. Chikwendu attracted the employers of labour in the Nigeria movie industry had only the post of the President contested for between veteran movie producer Zeb Ejiro (OON) and astute movie star cum producer, Paul Obazele.
CONTROVERSIAL CANDIDACY OF ZEB EJIRO
Prior to the election there were rumours that Zeb Ejiro (OON) will be disqualified as he was said to have led the AMP for two terms of four years which is the maximum any one could lead the association. It was also alleged that Zeb Ejiro has not paid his membership dues for years. All efforts to make him pay his dues before the election some calim were to no avail. This did not go down well with Paul Obazele's camp.
However the electoral committee led by Andy Amanechi cleared Zeb Ejiro, who lots of producers felt could serve the association better in his capacity as a Member of Board of Trustees or respected adviser who could influence governmental decisions that would improve movie production in Nigeria since he is an holder of a national honour; Officer of the Order of the Niger (OON).
HOW ZEB EJIRO LEFT ELECTION VENUE
As the elections were about to commence Zeb Ejiro and a few of his supporters refused to go away from spot of voting despite pleas by AMPEC officials to stay
away. Exasperated by this the incumbent President, Madu Chikwendu stood up to declare that AMPEC members should be allowed to do their jobs. He was immediately challenged by Zeb's junior brother. In a sharp reaction Madu threw the bottle water he held at Peter Red. Immediately, there was pandemonium and lots of
members started making efforts to calm the rising tension. Just as this was happening Zeb Ejiro, Chico Ejiro and Gaboski left the venue of the election in a
motor convoy.
AMP ELECTIONS RESULTS AT A GLANCE
President: Paul Obazele 53
Zeb Ejiro 8
Vice President: Adim Williams (55) Unopposed
Secretary General: Alex Enyeagho (60) Unopposed
Financial Secretary: Obi Madubuogwu (57) Unopposed
Treasurer: Chinansa Onyechere (57) Unopposed
Publicity Secretary: Lucinda Abazie (56) Unopposed
Public Relations Officer: Stanley Okoronkwo (61)