Marketers, problem of Nigerian musicians---Gbenga Falope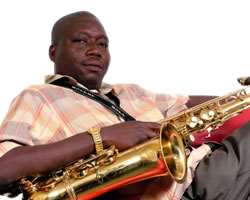 Gbenga Falope, the highlife music crooner, recently returned to Nigeria from a tour of South Africa. In this interview with Ayo Idowu, he speaks on his new brand of music.
We learnt that you left Nigeria for South Africa for a while. Does it implies music is not putting food on the table in Nigeria?
No, it is not as if it is not putting food on the table, but it is always better for a musician to travel abroad to perform. It adds to one's experience, exposure and even respect. I have been there twice and it was a wonderful experience.
You sing highlife, how is it related to the South African music?
I actually sing a mix of all. I started with jazz when I was in the university. I decided to stick to highlife, a little infusion of juju and a tint of gospel because of our system here.
Why South Africa?
Well… it was easier getting the visa. Moreover, whenever a musician wants to travel, he makes sure that he is in the hands of a very good and honest promoter. It's always a very wonderful experience for a musician to travel abroad to perform; he would return with full confidence.
Since you returned from South Africa, what have you been working on?
The first thing I started working on was updating my equipment. I discovered there was nothing better than having a set of well updated equipment. That is the edge our leaders have, that makes keeps them on top. It is easier to perform better than others when you have good equipment. I am also working on two videos, 'Love One' and 'Corner Stone'. We intend releasing the former by October and the latter by December. We just released the audio a couple of months ago.
What are your greatest challenges in your travails as a successful musician?
The greatest challenge I ever encountered was having my own equipment. I was able to overcome the challenge with the help of some fans and friends.
Juju music seems to be doing the rounds in the country today, how have you been able to stand tall with your kind of music?
It has not been easy. That was why I decided to stop the issuance of my life recordings to marketers. I discovered that other musicians sang the song I composed myself. You know how one feels, unauthorised theft of the songs I was compiling to use in my album. Moreover, I discovered that I needed to have audio and video release at least once a year. I needed that to stay close to my fans.
What has been your propelling force in music?
To answer that simply, I will say God, my mother and my inner instinct.
Was there a time you pulled out of music or you almost pulled out?
Ah! No, there was never a time like that.
Do you do anything outside music?
Yes, I do musical rentals, and I intend doing a few other things soon.
Why haven't you taken your music to the United States, Canada and the United Kingdom like other top-rated musicians?
As I told you, your will need a very good promoter. I currently have one, and I hope it will all work out fine before the end of the year. Then, it will be tours galore.
Are you encouraging any of your children go into music like you?
I have a boy who fell in love with music while he was growing up, but I will not force any of them to go into music. It has to be with a willing heart.
Do you have a special choice of clothing?
I don't have a special way of dressing. I don't believe in luxury. The rich do things that will create the future they desire.
What's your favourite vacation spot?
I love the Carebbean. I like their sea, I love to dance to their music and eat their coconut.
What is the craziest thing a fan ever did to you?
A fan kissed me directly on my lips. That was many years ago though.
What do you have to tell the younger ones coming after you?
Be yourself.
Do you have anything to tell your fans?
Yes, I want to thank them for their support in bringing out the dexterity in me. Without them, there is no Gbenga Falope. I want them to stay close to me and I will not disappoint them. Greater things are coming on board.