HTC LAUNCHES DESIRE HD AND Z ANDROID MOBILE PHONES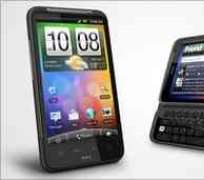 HTC hopes its new phones will help it counter both Apple and Android rivals
Mobile phone maker HTC has launched two Android mobile phones designed to secure its place as one of Apple's top competitors.
The Taiwanese firm hopes to challenge the iPhone 4 with the large-screen Desire HD and the Desire Z with its fold-out keyboard.
Both HTC phones are based on Google's Android operating system.
They come a day after Finnish rival Nokia presented three phones to revive its flagging smartphone division.
Mobile phone makers and network operators are betting heavily that consumers are keen on a connected and multimedia experience on the move.
Smartphone sales soar
Speaking at the HTC launch, Patrick Choumet, global director of terminals at network operator Vodafone, said smartphone sales were soaring, already taking more than 30% of the market; in three years Vodafone expects that smartphones will make up 70% ot total mobile phone sales.
With most smartphones now easy to use, customers are making heavy use of new services. During the past year, Mr Choumet said, Vodafone had experienced a doubling of data traffic for both location services like maps, and access to social networks like Twitter and Facebook.
The new HTC phones play to both trends. They are based on the latest version of Google's Android operating system – version 2.2, nicknamed FroYo – although HTC makes great play of its user interface Sense, which sits on top of the standard Android platform.
The new HTC Sense is not a revolution; current HTC phone owners will discover a raft of small tweaks to the software, all designed to ensure a smoother user experience.
Nokia's new top smartphone, the N8, sports a 12 megapixel camera. HTC's HD phone is countering with an 8 megapixel camera that is boosted by fairly sophisticated onboard picture editing software.
Big screen experience
It's here that the HD's large 4.3 inch (10.9 cm) screen – framed by a solid aluminium body – comes into its own.
While large, the HD does not feel unwieldy – unlike Dell's mini-tablet Streak with its 5-inch screen.
The Desire HD is larger than the Apple iPhone 4 – 8mm taller, 10mm wider and 2.5mm thicker – but then the iPhone has a comparatively small screen of just 3.5 inches.
The Desire HD has a huge screen, but at the cost of size and weight
Weight may be an issue for some buyers, with the HTC HD's quite heavy at 164 grams, compared to Apple's 137.
The Desire Z is even heavier at 180g, even though it is not much larger than the original HTC Desire. The weight is the price users have to pay for the phone's solidly-built flip-out keyboard. Like the Nokia N97, the phone suffers from keyboard stretch – as the keyboard is both slim and wide.
HTC's real challenge to Apple, however, is its "cloud service" for mobile phones, dubbed HTCSense.com.
Similar to Apple's MobileMe offering, the service allows users to control their phone from their computer, not just by backing up everything on the phone to the "internet cloud" where it can be accessed from any location with any web device.
Desire owners that have forgotten their phone at home, or even lost it, now can locate it, lock it remotely, tell the phone to forward all calls to another number, leave a text message for the finder of the phone, or erase all data on the phone if it is well and truly lost.
While Apple's MobileMe comes with a price tag, HTC promises to offer its service free to owners of Desire HD and Z phones – although some applications like turn-by-turn navigation for cars will come at a premium.
Technically, however, HTC's new product lineup is probably not about rivalling the iPhone.
Rather, it is a challenge to the makers of other mobile phones based on the Android operating system.