ABUJA GOES AGOG AT THE PREMIERE OF 'BENT ARROWS'.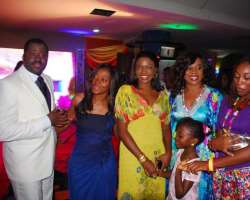 It was the unleashing of glamour and Glitz on Thursday September 9thas 'Bent Arrows' a block buster movie from the stables of Alphabridges Limited was premiered at the Silverbird Galleria in Abuja. The star studded movie parading the likes of Olu Jacobs, Joke Silva, Patric Otoro, Omoni Oboli, Stella Damasus, Enebeli Elebuwa,Ngozi Ezeonu, Desmond Elliot, Sylvia Oluchi among others was hosted to a grand entry into Nollywood as the premiere saw virtually all the stars in attendance.
The paid-for halls were quickly filled, and Silverbird had to quickly cancel a show to give another hall for the premiere which was powered by Vitabiotics Nigeria Limited, Jaytees, Chelsea Hotel, Westinghouse, Doxa Digital Nigeria and Bodyline Gym.
The movie tells the story of Idara who was raped by her uncle (her mother's brother) when she went to stay with him so he could help her with her education as he promised her mum.
After two abortions and finally securing admission, she became a prostitute. Introduced into the
trade by Ngozi (Stella Damasus) who because her father abandoned her mum and siblings for another woman took to prostitution. Lola (omoni oboli) after almost being smothered by her parents and being cheated by her fiancée Seyi decided to be a bad girl.



BENT ARROWS PREMIERE 01




BENT ARROWS PREMIERE 02




BENT ARROWS PREMIERE 03




BENT ARROWS PREMIERE 04




BENT ARROWS PREMIERE 05




BENT ARROWS PREMIERE 07




BENT ARROWS PREMIERE 08

Showing their prowess in acting the actresses gave a good account of themselves with Stella Damasus delivering her lines in pidgin with so much dexterity. Her wafi girl role was delivered well. According to Stella after the premiere, "initially they wanted to give me the role of Idara but I refused. I didn't want the weepy role. I wanted something challenging and different and the role of Ngozi gave me that".

On her part, Sylvia who had acted in about 4 films before playing the lead role in 'Bent Arrows' said the role was challenging because "I had to go through different layers of transitions as the character Idara. I enjoyed being the bitchy Idara more than the weepy one who had been raped." As for acting with well known stars she said she was "kind of overwhelmed".

The movie was written and produced by Isang Ubong-Awah and directed by Lancelot Imasuen who played d role of d pastor. The sound track was good and appropriate for the specific scenes. The independent soundtrack album of the film was produced by Mr. Cobhams Asuquo.

Signed
Bigsam Media
Lagos | Nigeria
September 14, 2010