POLICE QUIZ EX-NEWS OF THE WORLD REPORTER OVER HACKING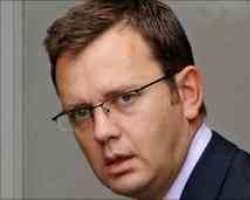 Andy Coulson has denied Mr Hoare's claims
The former News of the World reporter at the centre of phone hacking allegations has been questioned by police, his solicitor has said.
Sean Hoare was interviewed by officers under caution. He was not arrested.
Mr Hoare alleged in a recent interview with a US newspaper that his former editor at the News of the World, Andy Coulson, asked him to hack phones.
Mr Coulson, who denied Mr Hoare's claims, is now Prime Minister David Cameron's communications chief.
Earlier on Tuesday, Parliament's Standards and Privileges Committee said it would launch an inquiry into whether the hacking of MPs phones amounts to contempt of parliament.
The committee was asked to look into the issue of MPs phones being hacked following a Commons vote last week.
The committee now says it will not look into specific cases – such as alleged hacking of MPs' phones by News of the World journalists – but instead question experts on whether hacking amounts to contempt of Parliament.
If the committee decides that phone hacking does not amount to contempt it would be expected to hold only a brief inquiry, and would be unlikely to call any witnesses from the News of the World.
However, if the committee decided that there had been possible contempt, a wider inquiry could be triggered.
Former News of the World royal editor Clive Goodman and private investigator Glenn Mulcaire were jailed in 2007 for accessing the voice mails of public figures.
Also on Tuesday, representatives of comic Steve Coogan and presenter Chris Tarrant said they were taking legal action after the Metropolitan Police confirmed that their clients' personal details were in the possession of Mr Mulcaire.
Mr Tarrant's lawyer, Mark Lewis, said the action was "at a very early stage".