CASH BOOST FOR UK COMPUTER MUSEUM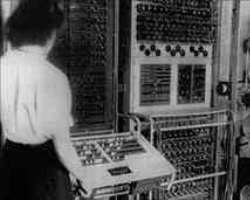 Bletchley was home to the pioneering days of the computer revolution
The National Museum of Computing at Bletchley Park has received its largest donation to date.
A grant of £100,000 has been donated to the museum by Bletchley Park Capital Partners and its associates.
The cash will be used to secure the future of the museum as well as help to pay some its day-to-day running costs.
A portion of the money has been set aside for work to refurbish the historic set of rooms where the Museum is located.
Jon Fell, a director and trustee of The National Museum of Computing (TNMOC), said the money would also help the institution put on display many more of the historic machines it has collected. Bletchley Park Capital Partners has also committed to providing more funding in the future.
The National Museum of Computing (TNMOC) occupies Block H at Bletchley Park – the wartime home of the original Colossus machines. Those computers helped the Allied code-cracking effort by decoding orders sent by Hitler's generals.
The machines were also among the worlds first true computers and the expertise built up during their construction led to many other pioneering developments.
On display at TNMOC is a re-built Colossus Mark II, mainframes and mini-computers from the 1960s, a gallery about the invention of the internet and micro computers from the 1970s and 80s.