BBC'S RAY GOSLING SENTENCED FOR WASTING POLICE TIME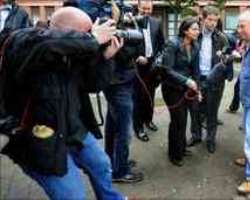 Ray Gosling: "The pact was… if nothing could be done, I would not let him linger"
A BBC presenter who admitted wasting police time after claiming on air that he smothered his dying lover has been given a suspended prison sentence.
Ray Gosling, 71, of Nottingham, was charged over claims he made to BBC Breakfast's Bill Turnbull in February.
He was initially arrested on suspicion of murder, but charged with wasting police time after the confession was determined to be false.
At Nottingham Magistrates' Court, he was handed a 90-day suspended sentence.
'Technically guilty'
Gosling's claim was first made in a BBC Inside Out documentary about so-called mercy killings, broadcast on 15 February.
Continue reading the main story
'
Start Quote
The man they thought was a worthy and principled journalist is, in fact, a sheer liar and fantasist'
Simon Clements
Prosecutor
He said: "I killed someone once. He was a young chap, he'd been my lover and he got Aids.
"I picked up the pillow and smothered him until he was dead."
He was interviewed on the Breakfast programme the following day and asked about his claims and again confessed to the mercy killing.
He was charged with wasting police time after the Crown Prosecution Service decided there was enough evidence to "provide a realistic prospect of proving that Mr Gosling's confession was false".
A BBC spokesman said: "In the light of the plea given in court today, we regret that we broadcast a claim by Ray Gosling which has effectively been withdrawn by him.
"We apologise to viewers and to those most closely involved for any distress this may have caused."
Entering his guilty plea, the presenter told the court: "Digby Johnson, my solicitor, tells me technically I am guilty.
"I just want to say, very clearly and very strongly, sorry to my lover's family and for the distress I have caused them and sorry that apparently I have wasted police time."
'Substantial distress'
Earlier in the hearing he had denied the charge, saying: "In my heart and in my head I plead not guilty."
But after a short adjournment with his solicitor, he changed his plea.
Gosling said he "might have got carried away" by hearing other people's stories
Simon Clements, prosecuting, told the court a lengthy police investigation began on 16 February, involving 32 members of police and support staff which eventually found Gosling had not killed anyone.
"It is estimated that the total number of police staff hours spent investigating Ray Gosling's false report is in excess of 1,800," said Mr Clements.
"He [Gosling] told police that many people had come forward and thanked him for what he had done.
"They will now come to realise that the man they thought was a worthy and principled journalist is, in fact, a sheer liar and fantasist."
Mr Clements added: "This false report was particularly serious and malicious and has caused substantial distress… by raking up hugely sensitive matters that happened over 15 years ago."
'Cruel fabrication'
Sentencing Gosling, District Judge John Stobart told him: "As cases of wasteful employment of police time go, this is as bad a case of its type as I have seen."
He added: "Your plea and apologies cannot take away the deep distress you voluntarily caused to the people in the process of creating and maintaining this cruel fabrication."
Speaking as he arrived at court on Tuesday, Gosling admitted he had not killed his lover.
He told journalists: "I was not even in the country when he died, but I would have done it.
"We had a pact. It did happen, he died of Aids, his mother was with him and I am sorry for any distress I have caused."
In addition to the suspended sentence, Gosling was ordered to pay £200 towards court costs at a rate of £5 a week.