A Ruggedmans' Ordeal with the Nines.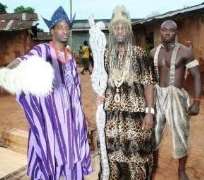 Micheal Stevens a.k.a Ruggedman would on the 20th of September 2010 add another year to his roughly mid thirty something years. Never would he have thought that he'd receive a diss track/album as his birthday gift from a colleague that once called him boss, a colleague that championed the hit single off his sophomore album hailing him 'ruggedy baba the opomulero' too bad! The Alapomeji camp just released a diss track titled 'Talk am listening' which featured Seriki.
The last time I checked Micheal never had it well with the Nine's, first was the ego battle with erstwhile lyricist Modenine and off recent the very famous phone conversation with 9ice about the rumours of him (Rugged) sleeping with his ex-wife. It's safe to say the Ruggedman has been doomed by the 9's. The off recently quiet but twitter vibrant Micheal has evidently run out of ideas as to boosting his musical career even after putting out two singles from his much talked about last album which has taken longer than expected to drop. Teaming up with the Loopy crew, putting Ice Prince on a track and doing all that can be done to impress on the 'She n my swagga' track with production from Sossick, the ruggedman still couldn't make things work, the best thing that has happened to him in recent times has been hosting the Star Quest show and starring in the Glo blackberry advert.
The past few years have not been too impressive for the rapper in the Music Industry from the indirect disses to Modenine urging him to mention his name to the known talking to you featuring Banky W where modenine took a direct jab at him with the famous punchline "you are not a father you've got intellect myopia, when I diss a baba its not Ethiopia" followed by the indirect reply by ruggedman in Banging, to the popular death blow part one where the Baba lost any lyrical credibility that he ever had.
The Discord with 9ice began with rumours of him been the cause of 9ice's broken marriage and also the character portrayed in the song once beaten twice shy; thought to be giving a head by his ex-wife. He thought it as a smart move to record a conversation he had with 9ice on phone, release it online to prove his innocence, but that leak was the beginning and a catalyst for this song. Talk i'm listening 9ice sang repeatedly and in the first verse Seriki whitewashed Ruggedy reiterating one of Modenine's line in death blow where he said Ruggedman was sleeping with his dancers. In the second verse 9ice went very direct mocking Ruggedman by calling him a bastard repeatedly. 9ice's ex-wife Toni Payne appears to be caught in the middle in all of this has she tweeted her frustration on the whole scenario, affirming that Ruggedman releasing the phone coversation was a dumb move but 9ice releasing a track/album to that effect was insane and way childish.
The big questions??
Would ruggedman reply this diss song? If he does what would he say? One of the reasons he gave for not replying Modenine in his words was that he was too busy to think of a 'broke lyricist'. So what would he make the base of his Braggadocio now? Or would he let this also fade away? The truth is whatever he does, Micheal Steven's musical career did dwindle and the whole diss saga he is surrounded by establishes an unimaginable manifestation of Karma.