ELECTION TIMETABLE: JEGA'S PERFECT ALIBI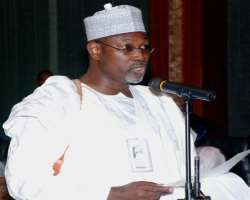 PHOTO: INEC CHAIRMAN ATTAHIRU JEGA.

The job of a National Electoral Commission Chairman in Nigeria is risky, difficult and thankless. There is hardly anyone who has occupied that position without getting blamed for part of Nigeria's woes from Chief Eyo Esua, to Chief Michael Ani, Justice Ovie-Whiskey, Professor Eme Awa (he was removed before the 1993 elections), Professor Humphrey Nwosu, Professor Okon Uya, Chief Summer Dagogo-Jack, Justice Ephraim Akpata, Dr Abel Guobadia and Professor Maurice Iwu. Clearly the top prize winner in this infamous group is Professor Maurice Iwu who conducted the 2007 general elections and all the re-runs and bye-elections arising there from. Nigerians regarded Maurice Iwu as "the problem", although we are all now beginning to realize that the problem with Nigeria's electoral system is far more complex and multi-dimensional. Professor Attahiru Jega, Iwu's successor, and the first Northerner to occupy that position since 1959 may however turn out to be luckier than his predecessors. He has a perfect alibi not to conduct free and fair elections. Four months to the elections, the process beginning yesterday, September 11, there is absolutely no reason for Nigerians to hope that the next elections will be any better than the 1999, 2003 and 2007 elections.
Jega has consistently provided an explanation for likely failure. He had asked the Federal Government to provide the needed funds within a specified deadline. He now has N87.7 billion and may well end up conducting the most expensive general elections in Nigerian history. But the more telling obstacle that he has drawn attention to is that of time. According to him, "time constraint is our concern, although we are doing our best to see that we overcome it. However, as I keep telling all Nigerians at every opportunity that I have, obviously, the more time we have, the better job we can do with this assignment."
Here is how the INEC Chairman defines what he means by "better job": "So far as I am concerned, what I am saying is that if I have more time, I will deliver a better result; if I have less time, though it will be difficult for me but we will still have something better than what we had in 2007. Being better than 2007 may not be what we need or what will satisfy the aspirations of Nigerians, but Nigerians will know that we have done something better than before, we do our best under the circumstance." "Something better than what we had in 2007" certainly cannot be a measurement of the success of the 2011 polls. The 2007 elections were considered fraudulent. But should we blame Jega if the country fails again in 2011?
From all indications, Nigeria is going into the 2011 elections totally unprepared. We are going into the elections, not because all the building blocks for a credible election are in place, but because we are compelled by a "doctrine of necessity" (a phrase that has become notorious in Nigeria) to ensure that the elections take place. Elections are not fool-proof even in countries with organized processes and institutions, not to talk of a context such as ours. An election is not an exercise in magic, rather it requires very careful preparation: voters have to be registered, infrastructure has to be put in place, voters have to be educated and mobilized, the political parties also need to put their house in order; problems have to be sorted out. I have heard some people argue since the release of the INEC timetable for the 2011 polls that it is "do-able": that is credible elections. I doubt this, and as Jega himself has pointed out, time constraint is a major issue.
The problem predated the timetable. Jega and his Commissioners have not had enough time to settle down in office to understand the institution and the structures they inherited. The INEC Chairman had barely a month to study the situation. Maurice Iwu should have been removed much earlier, but the former President was ill, and the acting President and the rest of the country failed to listen to civil society protests that Iwu should be removed. One of the first things Jega did was to expose the Iwu legacy. He told Nigerians that Iwu bought fake machines, prepared a bad voters register; even some of his staff had to be fired. We have under the circumstances, an electoral commission that is more or less starting afresh with very little advantage in terms of continuity. Thus, the electoral commission as an institution is shaky and has never been weaker. Jega will probably need more time to rebuild the institution, but as it is, he has to run an electoral process with that same weak structure. We had four years to prepare for the 2011 elections, we did not do so; now everything is being hurriedly put together.
According to the timetable, the 62 political parties are to conduct their primaries between September 11 and October 30. As at this moment, many of the parties are totally unprepared. Given the staggered primaries format recommended in the 2010 Electoral Act, the political parties trying the format for the first time could face special difficulties; political risk in form of violence across the country is also high. Parties are expected to begin their campaigns on October 17, but the final list of candidates may not be known until the first week of December, which means most of the candidates will have barely a month of campaign. If an election is about choice, then the electorate is placed in difficult circumstances. The registration of voters is scheduled to take place November 1 - 14.
Some people have argued that this is enough time to do a new voters register that will be better than the Iwu register. I don't think so. In the absence of a credible population database, and without reliable records of births and deaths, Jega's INEC is practically hoping to prepare a brand new voters register. In Anambra, Ekiti and elsewhere we have seen how critical the voters register is to electoral outcomes. In other countries where a voters register can be prepared within two weeks, it should be noted that the register is continuously updated all through the year, it is not a special event as we have made it here. As designed, the proposed exercise will disenfranchise many Nigerians including Muslim pilgrims who will be away on hajj during the period.
INEC has already signed a contract for the importation of Direct Data Capture machines, but suppose something goes wrong with the delivery of the machines or even the printing of forms or cards? And even if there are no such unforeseen problems of logistics, has anything been done about the people element in the process? INEC is yet to recruit the ad hoc workers that will serve as its field officers for voter registration. It has neither recruited nor trained election officials either. Even if the machines arrive on time, they would have to be tested and the officials have to be trained to use them. INEC officials are poorly paid, badly motivated and could be easily compromised by politicians.
To cite one example of how unprepared INEC is, Mike Igini, the Resident Electoral Commissioner in Cross River State made far-reaching revelations in an interview in The Guardian yesterday. He says among other things: "As I speak to you, I don't have an official roof over my head. I am still in a hotel, due to the fact that a well-located building given by the state government to INEC is in a decrepit condition. The roof of my office is leaking, so also is the so-called master bedroom, and the entire kitchen cabinets are eaten up by termites. I inherited only two frying pans as cooking utensil. The boys' quarter is a total no-go area for human habitation. Both in the residence and the office, the story is the same." (p.10). Igini's interview should be read alongside an earlier contribution by former Governor Donald Duke titled "How Governors rig elections" (The Guardian, July 18, pp. 72 -73). The timetable is so congested, even ancillary activities that are not listed in it are just as demanding, still Jega says he will do his best. The first election has been fixed for January 15 (National Assembly) and all the elections are to end by January 29.
In rejecting the request by civil society that the elections should be held in April and that the amended 1999 Constitution should take effect later, INEC obviously intends to provide enough time for all election petitions to be determined before swearing in on May 29 in order to avoid a situation whereby persons have to vacate their positions sometimes two years after swearing in, their election having been annulled by the courts. There is no guarantee that this will be realized, as there is no rule compelling the courts to rush through election petitions. The 2011 general elections were meant to stand apart as the harvest of electoral reform: but the country has lost the opportunity for reform. Not only was the Uwais committee and its recommendations on electoral reform substantially ignored, the National Assembly deliberately left electoral matters till the eleventh hour: an indication that neither the Legislature nor the Presidency had any genuine interest in electoral reform beyond merely paying lip service to it.
President Jonathan is definitely not interested in free and fair elections. Now that he wants to be a candidate in the election, his sole interest must be in winning by all means. His campaign team is already adopting an aggressive method that is designed to intimidate everyone including the electorate into submission. There was even a housemate in the current edition of Big Brother Africa, donning a T-shirt in Nigerian colours with an inscription: "2011 – The year of Nigeria's "Goodluck." State Governors have also been drafted into the Jonathan campaign as zonal co-coordinators. By making such appointments, President Jonathan is abusing the privilege of his office. Can't he look for other co-coordinators? We face the possibility of these state Governors/Jonathan campaigners using state resources to run a political campaign. The order of elections is also suspicious: by placing the National elections first, National Assembly (Jan. 15); Presidential (Jan. 22), the Governors are automatically compromised: they are expected by the PDP leadership to deliver their states, and if they fail to do so, they could open themselves up to reprisal actions.
A PDP majority win in the national elections is bound to affect the rest of the elections, far more significantly than was the case with regard to the NPN in the 1979 elections when a similar order of elections was adopted. Even if this calculation is not proven, INEC already raises serious questions about its independence. It is sad to see that across the country, PDP Governors are fully distracted by politics. As in previous elections, there has been no discussion of issues, no prospect of quality debate within and among the parties. At a time when Nigeria is rated the 13th worst country in the world on the Global Competitiveness Index (GCI), and Newsweek magazine in a special edition ranks Nigeria 99th out of a survey of 100 of the "best countries in the world", with religious violence in parts of the country, with arms and ammunitions being imported illegally into the country ahead of the elections, Nigerian politics needs to be issue-driven. But it is not.
The United Kingdom Minister for Africa, Henry Bellingham has said that "the 2011 elections must show to Africa and the world that all Nigerian politicians have abandoned violence and rigging." I bet that won't happen. He added that "it is vital that every effort is made to ensure credible elections so that Nigerian citizens have confidence in their democracy." That confidence is lacking. Our situation is made worse by the announcement by the Ministry of Finance that between December 2010 and January 2011, the Federal Government will remove the remaining fuel subsidy, despite organized Labour's protest that its members will shut down the country should that happen. Why on earth will anyone propose such a volatile and potentially disruptive policy in the middle of an electoral process? Is there a hidden plan to derail the 2011 elections?
Disclaimer:

"The views/contents expressed in this article are the sole responsibility of the author(s) and do not necessarily reflect those of The Nigerian Voice. The Nigerian Voice will not be responsible or liable for any inaccurate or incorrect statements contained in this article."
Articles by thewillnigeria.com