PALACE OF JUSTICE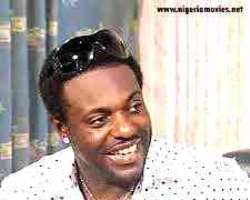 Iyke
This is an unending battle between former friends and business partners David (Jim Iyke) and Alex (Desmond Elliot). David is confined to a wheel chair, no thanks to a horrible car accident for which Alex is being held responsible. The elders try to mediate but to no avail. The bone of contention is Alex's refusal to swear at the village shrine because of his religion. But David's uncle, Amobi (Chiwetalu Agu), sees no alternative to Alex's proving his innocence via the shrine. That's deadlock one.
The second point of conflict is self-inflicted. David decides that his wife, Juliet (Tonto Dikeh), needs to sleep with another man so they can have children. So, she chooses her friend, Morris (Browny Igboegwu) even though he gets paid a tidy sum of N10m for his services. He is even made to keep mum on the matter. However, several years and one set of twins (boy and girl) later, Morris returns to claim his children because of his inability to have kids. He is told by a reverend father that he must return to the children he sold.
But there's a twist: The kids are now dead and were found to have been poisoned. Who is responsible? Is it Morris who would rather kill the children if he can't have them? Is it David trying to erase the memories of his 'deal' and humiliation…? Or is it actually Alex, who had threatened to finish off David and his entire family just before the death of the first child?
In the end, the revelation is not really much of a shock, especially if you've seen a few Nollywood films. It's not so much as the story being predictable but the actors are predictable in the roles they're to interpret. Once in a while, there's a surprise but if you look at the cast you can tell who the bad guy is.
There are a few inconsistencies in 'Palace of Justice.' It opens with Tonto Dikeh in a very revealing dress which I think I saw Jackie Appiah also wearing (and there were other examples of clothes-sharing). That's the scene where her husband first broaches the idea of her trying another man to have children. Can't claim to know how wives with wheel chair- bound husbands dress but Tonto didn't look like one depressed or desperate for kids. If anything, she looked like she was about to go off to a party.
I also can't place Jackie's role. Is she a peace seeker as someone suggests rather belatedly? We see her throwing her weight around with her menacing body guards and she even storms out of a scheduled peace meeting with their lawyer, Barrister Innocent (Emeka Amakaeze). Yet, she tells her husband to go apologise? There's nothing before and after to show she's supposedly the more conciliatory one. At least Tonto's character was consistent in seeking vengeance.
Notwithstanding these inconsistencies, Palace of Justice makes an interesting watch. The acting is natural and for the first time in a long time in Nollywood, I saw a child 'actor' - Jennifer Onochie (Favourite) who can actually act.