SOME OTHER THINGS YOU NEED TO KNOW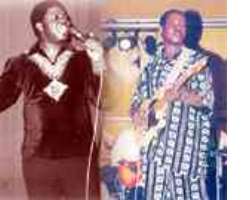 L-R: Yagba Tsav; Tony Zitta, Peter Igho and Femi Ayeni of Ultima Studios
- Weeks after the inferno that gutted the Ultima Studios in Ikeja, Lagos, sympathisers have not stopped thronging the vast complex to commiserate with the owners. Some days back, the Director General, National Lottery Regulatory Commission, NLRC, Peter Igho, was there in company with the Director, Regulatory and Monitoring, Tony Zitta and Head, Public Affairs, Yagba Tsav.
Lamenting the ugly incident, the DG said Ultima Ltd was one of the most valued partners in the lottery business, commending them for applying great sense of innovation and creativity in the television shows 'Who Wants To Be a Millionaire' and 'Project Fame West Africa.'
………..
- King of comedy, Ali Baba, has just made Sunday afternoons more interesting for those interested in alleviating stress through laughter with a new comedy package, Ali Baba and the 40 Gifts, which was launched last Sunday at the Motherlan', Opebi, Lagos. Not a few people won prizes ranging from cash, household items to high-end phones and electronic appliances. A family-oriented show with an array of gifts to share, the second edition of the show comes up at the same venue, Sunday 12th.
…………….
-Gifted and consistent rapper, David Adoga or OD, as his fans know him, is now ready with his second album, Hustle or Die, HOD. Featuring a long list of collaborations with his old Swatroot buddies Mode 9 and Terry tha Rapman, First lady of Storm Records, Sasha, Kiss Records' Black Solo, and Etcetera, the album, the Rapper's record label X3M Music says, will record the events shaping OD's life since the release of his last album Don't hate.
………………
- There have been reports that a show featuring afro juju creator, Sir Shina Peters, was disrupted by security agents in the US. But his Corporate Affairs Manager, Ibraheem Abiodun, has debunked such claims. According to him, 'SSP is on a tour of the US and if at all there was any such incident, I would have been aware. But no such information got to me.'
An online news portal had reported that 'Star', as the juju act is also known, was left dejected when a show he was performing in at the Royal Prestige Hall, Largo, Prince Georges County in the state of Maryland, USA, was stopped due to the inability of the organisers to produce a liquour license. E-Punch is still investigating.