Bankole Urges Nigerians To Be Tolerant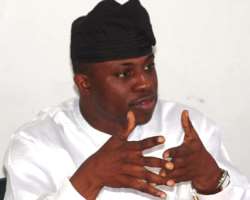 PHOTO: HOUSE SPEAKER DIMEJI BANKOLE.

ABUJA, Sept 09, (THEWILL) - Speaker of the House of Representatives, Hon. Dimeji Sabur Bankole has called on Nigerians to be tolerant of one another and conduct themselves in a peaceful manner as they celebrate Eid ul fitr and prepare for the next general elections.
Bankole said the ideals of service and good governance can only make meaning where those in positions of authority see themselves as leaders with responsibility to serve the people and not rulers.
Bankole in a Sallah message signed by his Chief Press Secretary, Mr. Idowu Bakare said, the holy months of Ramadan has provided opportunity for Nigerians especially, Muslim faithful to rededicate themselves to the pursuit of what is just and right for the common good of Nigerians adding that the discipline and the sacrifices that the fasting period entails should be channel into other national endeavor.
"Unless and until we insist on what is right for the overall good of our people, our quest for good governance and its derivatives may remain elusive to us a nation," Bankole said.
Bankole who is also the President of the Afro-Arab Parliament said, Nigeria's democracy regardless of its imperfections has come to stay, urging believers across the world to pray for peaceful elections in Nigeria.