EVERYDAY SANITARY PADS STORM NYSC SECRETARIATS ACROSS THE NATION FOR FEMALE CORPERS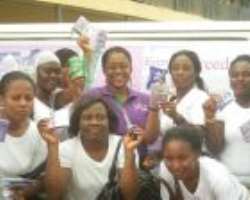 Everyday, raise your Everyday pad up
As part of its commitment to give back to the society, educate the
female gender and to strategically consolidate itself as a leading
sanitary pad in Nigeria, PZ Cussons Nigeria Plc, makers of the
Everyday Sanitary Pads (ESP) has embarked on a nationwide tour around
National Youth Service Corps (NYSC) secretariats for its 2010 Sampling
Exercise. Nineteen states of the federation will benefit from this
laudable initiative. This effort is specially designed for more
protection even during heavy flow days for the female genders.
The sampling process which had in attendance the train of Brand
Ambassadors, Brand Educators & Facilitators with top Management staff
of PZ Cussons Nigeria Plc in persons of Mrs. Titilola Igri-Offor
(Senior Marketing Manager) and Mrs. Roseline Abaraonye (Brand Manager,
Mother and Baby) moved from the NYSC Secretariat, Surulere to Surulere
LG Secretariat, Masha and later to Eti-Osa LG where female corps
members were addressed and positively engaged on issues bordering on
their health especially ones that has to do with healthy eating
habits, period days, exercises etc.
It is no more news that today, consumers are getting more and more
sophisticated, hence, there is need to break the clutter by engaging
the consumers via lifestyle experiences that can relate to and build a
bond with consumers.
Consequently, female corps members are identified as being self
conscious, fun loving, trendy, social and open to new ideas, therefore
the Everyday You" activation is designed specially to appeal to those
variables as sensory touch points to communicate and connect with the
target audience in relation to the brand. Hence, communicate the
features and benefits of Everyday Sanitary Pads as a way of educating
females on the importance of maintaining an everyday life balance and
personal hygiene.
In the words of the Senior Marketing Manager, Mrs. Titilola
Igri-Offor, Everyday Sanitary Pad is growing stronger and better on
daily basis because as the name implies, it has to be everyday for
everywoman. "The essence of this NYSC Sampling 2010 is basically to
create more awareness and get more consumers to buy the products
because we have confidence in the brand that it will deliver as usual,
so what we are doing is expanding the scope of consumer base of the
Everyday sanitary pad. Our target audiences are the female that are
yet to reach their menopause, especially the youths and students, our
core target are those in the secondary schools, those in the
Universities and the corpers like we are doing today. What we are
trying to do as our own contribution is to promote hygiene within the
corp members" she averred.
The corp members were engaged constructively and after each session,
Everyday Sanitary Pads were distributed freely as sampling for corpers
who kept yawning for more. Most of them interviewed expressed their
extreme satisfaction over the process and the organized manner to
which the brand ambassadors conducted the exercises. They went further
to eulogize the bold step by the Everyday Sanitary Pad to move around
19 states of the federation with similar effort to advance the course
of good health for female corpers. Ugo Ngozi, a female corps member
said " the product is very good and I am a regular user, from now on,
I will tell more of my friends that Everyday Pad is well padded and
safer for use, I am impressed with the practical carried out for us
here. And as if that was not enough, Rose Agu another corps member
said "now that Everyday is back and better, I will start using it,
after all that is what my Mummy recommend for me, I think Everyday is
better than any other pad, they just need to do more of this, before
they know it, they will be there in the sky" she said smiling as she
display her pads.
The Everyday Sanitary Pads (ESP) is specially designed to give maximum
protection and comfort especially in the following areas:
(1) Dry Gel Core, which solidifies the moisture and holds it in the
inner part of the ultra pad.
(2) Hyper dry Top Sheet that quickly absorbs wetness into the core of
the pad and prevents it from returning.
(3) Intra fill sub layer helps draw wetness fast away from the surface of pad
(4) The protective wings help prevent leaks and keep the pad in place
The Brand Manager (Mother and Baby), Mrs. Roseline Abaraonye said the
sampling process will continue across 19 states of the federation. In
her words "we are poised to touch lives and educate our female corpers
across the country. We will be going to 19 states with this Everyday
You campaign. You will realize that apart from the free products
sampling we are giving them, we are equally engaging them to be more
conscious about their health, especially healthy eating habits,
exercises, Pre-menstrual Syndrome (PMS) amongst many others. Our
target is to take Everyday Sanitary Pad (ESP) to the greatest height
where every woman within the age range of 12-40 years will use ESP as
her pad, now ladies can feel even more protected on those special days
with Everyday Sanitary Pads, everyday is like every other" she
submitted.
ESP is endorsed by Society of Gynecology and Obstetrics of Nigeria (SOGON).

Alayande Stephen T.
Media Consultant