EFCC SWOOPS ON JIGAWA, KWARA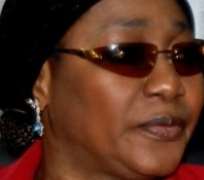 In Jigawa, those arrested were commissioner for local government Salisu Mahmuda and his permanent secretary Ado Ahmed, accountant-general Sani Ahmed Jahun, permanent secretary of finance ministry Adamu Mu'azu and his works ministry counterpart Datti Ahmed. They are to answer questions regarding the alleged misuse of N12 billion.
Works commissioner Baba Sintili Aliyu was on the run, Babafemi told Daily Trust yesterday. 'We have declared the commissioner of works wanted as he is on the run,' he said.
In Kwara, chairman of Irepodun local government area Tajudeen Bada and his Oke-Ero counterpart James Olaniyi were arrested in connection with the misappropriation of N15 billion, while other officials being sought had fled, according to the EFCC.
The arrested suspects are being detained at the commission's headquarters in Abuja.
Confirming the arrests, Babafemi said, 'We have arrested two council chairmen in Kwara and five top civil servants in Jigawa in connection with alleged fraud and we are investigating the allegations.'
In the Jigawa State capital Dutse, the EFCC operatives invaded government ministries early yesterday and picked the officers. They were first held at the state police command before being taken to Abuja, according to police sources.
Speaking to Daily Trust shortly after a meeting behind closed doors with state police commissioner Abdullahi Fana, Malam Muhammad Ali Ringim, whose petition to EFCC led to the arrests, said he was invited by the police for questioning over his allegations against the Governor Sule Lamido administration.
Ringim said in his petition, he drew the attention of the EFCC to incidents of contract inflation in road and water supply projects and the construction of a new state secretariat.
'I petitioned the EFCC over alleged N48 billion claimed to be spent on the asphalt overlay of some roads, over N600 million spent on the purchase of water pumps machines and N48 billion for the completion of the second phase of the state new secretariat,' he said.
Governor Lamido yesterday said he was ready to go to prison if the EFCC investigation found him wanting. Speaking in Dutse, Lamido said some politicians who wanted to use him for their political ambitions were behind the investigation, adding that he would not waver in his commitment to his ideology.
'I am being investigated on allegations of misappropriating public funds and that my son Mustapha has built a house in Kano state worth N1 billion… Wallahi (I swear by Allah) I am ready to defend myself,' he said.
In Ilorin, Kwara State deputy police commissioner Mrs. Bosede Dawudu confirmed that the commission's operatives came to the state on Friday. 'When they (EFCC) came they said they were in the state to perform official assignment,' she said.
But information commissioner Ben Duntoye said he was not aware of EFCC's presence in the state. 'EFCC was not seen anywhere. I have spoken to some other commissioners. No trace at all. Everywhere is calm and work is going on without problems,' Duntoye said.
'No cause for alarm and no big deal about EFCC visit to the state. This is not their first time of coming. Their past visits have been met with support and also found our documents intact. That is not a surprising because in Kwara, we operate with administrative and financial set rules and regulations…. If they want to come they are welcome we have nothing to hide.'
Daily Trust on Friday reported that EFCC detectives were on their way to Kwara, Kebbi, Jigawa, Sokoto and Gombe states to arrest top officials in a crackdown secretary ordered by the presidency. The report said the arrests were targeted at the Northern governors who in July said the North should produce the next president in 2011.
The Northern Political Leaders Forum also at the weekend alleged that there was a plot to use anti-graft agencies to witch-hunt pro-zoning governors.
But Babafemi yesterday reiterated that the commission was not on a witch-hunt but was only acting on petitions accusing the officials of fraud. He said the commission was committed to fighting corruption in the country in spite of what he described as 'unpleasant statements from some Nigerians.'
Babafemi added that the EFCC would not be intimidated by what it called the 'level of propaganda.'