Nigerian Police, bribery, fraud and corruption (PICTURES AND VIDEO)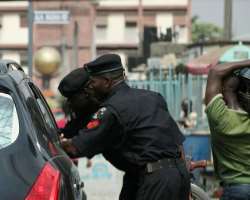 * Citizens sexually assaulted, shot for refusing to bribe
* High-level embezzlement limits police resources
* Wealthy able to pay for private police squads
Corruption in the Nigerian police force, from armed officers extorting money at checkpoints to top officials embezzling public funds, has led to the beating and even killing of innocent civilians, a rights group said.
Institutionalised extortion, lack of political will for reform and impunity mean Nigerians are more likely to encounter police threatening them and demanding bribes than enforcing law, Human Rights Watch (HRW) said in a 102-page report.
"The long-term failure of the Nigerian authorities to address police bribery, extortion, and wholesale embezzlement threatens the basic rights of all Nigerians," said Corinne Dufka, senior HRW West Africa researcher.
In major cities across Africa's most populous nation, including the commercial hub Lagos and capital Abuja, armed police set up checkpoints every evening ostensibly to control high levels of crime, including armed robbery and kidnapping.
But the checkpoints are in reality tolls at which officers attempt to force motorists to pay money -- sometimes grinning, Kalashnikov in hand, and asking "anything for the boys?" but frequently becoming more aggressive.
"Extortion-related confrontations between the police and motorists often escalate into more serious abuses," the report, based on interviews with more than 145 victims, said.
"The evidence suggests that police officers have on numerous occasions severely beaten, sexually assaulted, or shot to death ordinary citizens who failed to pay bribes demanded."
Nigerian police spokesman Emmanuel Ojukwu said the report contained "largely embellished innuendos".
"Admittedly, the Nigerian Police Force has identified the conduct of some of its personnel in the areas of corruption, extortion, arbitrary arrests, torture and even extrajudicial execution," he said on the police website (www.npf.gov.ng).
"Any inappropriate behaviour is not tolerated, covered or condoned," he said, adding close to 10,000 officers had been sanctioned over the past year for acts of indiscipline.
INSTITUTIONALISED CORRUPTION
Senior officers have institutionalised extortion by establishing a system in which rank-and-file officers are compelled to pay up the chain of command the money they make at checkpoints, the rights group said.
It cited serving and former officers as saying officers had to pay to be given a "lucrative posting", such as a checkpoint in a wealthy neighbourhood, where they are given daily or weekly financial targets and are punished if they fail to meet them.
The rights group also said senior officers were accused of embezzling "staggering sums" of public money meant for the force, leaving it with limited capacity to investigate crime and its forensic laboratories at a "near standstill".
"We get none of what we need to do our job ... pens, complaint sheets, we buy. Bail bond sheets, we buy. Fuel, we buy it," the report quoted one police sergeant as saying.
Endemic corruption meant only those who could afford to pay were helped by the police, the report said.
"Crime victims are routinely forced to pay the police to conduct every stage of an investigation from the moment they enter a police station to report the crime until the day their case is handed on for prosecution," it said.
"Those with no means to pay are left without justice."
Members of the wealthy elite pay to contract out police officers as private protection squads.
Wealthy Nigerians escorted by a truck of armed police, often willing to beat anyone who gets in their way, are a common sight in Lagos and are viewed as a status symbol by some residents, despite efforts by local authorities to ban such convoys.
"Successive Nigerian administrations have acknowledged many of the problems described in the report and have set up panels and committees to examine and make recommendations for police reform," Human Rights Watch said.
"Unfortunately, the recommendations ... have been largely ignored."
Have you ever been a victim or a witness to police corruption in Nigeria? Have you suffered from extortion and bribery, embezzlement, and failure of oversight? Post your own personal experiences and comments
Writing by Nick Tattersall; editing by Andrew Roche. Additional materials by Nollywoodgists.com