Cholera Kills 7 In Jigawa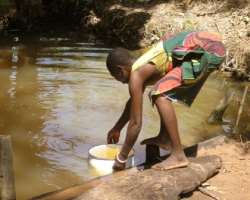 A FILE PHOTO SHOWS A VILLAGER FETCHING UNSAFE DRINKING WATER.

JIGAWA, Sept 06, (THEWILL) - Seven people were confirmed dead following an outbreak of cholera in some Local Governments in Jigawa state, the state Health Commissioner, Dr. Ibrahim Nashabaru, has confirmed.
THEWILL's unconfirmed sources put the death figure at over 50 persons in the affected areas as it spilled over to other places across the state and the other cases of the cholera outbreak have been recorded at Hadejia were an undisclosed number of deaths have also been recorded.
The state Commissioner for Health confirmed that, "there are some isolated cases of the cholera infection outbreak at the border towns of Bauchi that spilled into Jigawa state".
He further went ahead and assured that there was no cause for alarm as the situation has been under firm control.
The affected areas include Birnin Kudu, Gwaram and Buji Local Government areas of the state in which a total of seven people are said to have died, five in Buji and two others at Gwaram Local Government.
He announced that the situation has been contained with the Government providing medical assistance to the affected victims in the areas, as well as massive sensitization campaigns at various places of worship on preventive measures to be taken by the people.
A victim Malam Habu told reporters that many deaths were not recorded by the government explaining that it will be difficult for the authorities to quote any figures.
He said that several other deaths had occurred from victims carrying the same symptoms of diarrhea and vomiting at other houses but expressed dismay that the Local Government Chairman only gave the state government team that came to verify the case some false figure.
"Initially when we noticed that people were dying we went and complained to the Chairman about what was happening in our community but he told us that the government will not be happy with us if it found out that the sickness was as a result of lack of hygiene", said Mallam Habu.
The Chairman of Buji Local Government Alhaji Isa Bello Gwadayi denied the outbreak, insisting that his council has not experienced any single case of cholera outbreak in the area.
"If the Commissioner told you so then so be it, but I am categorically telling you that I am neither aware of any single case of cholera outbreak in Buji and it's environ nor been informed of any death from the infection", he told THEWILL.