Jenifa, you are wanted in Bariga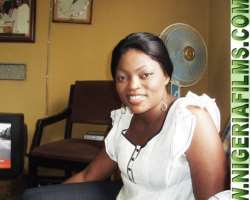 This is not a gist o. It is a public announcement I am yet to collect money for. I just hope the advert department will not bill me before I have the opportunity of seeing actress Funke Akindele, who, as the subject matter of the announcement, should foot the bill.
Yes, the wave-making talented actress, who has been making a lot of us proud with her acting skills, is now a wanted person. No be police dey find am sha o!
On the contrary, it is some people who claimed to have enjoyed the privilege of either seeing the actress grow up or were playmates of Jenifa in the Bariga area of Lagos, who asked me to help them tell Sulia of Aiyetoro to spare some time of her very tight schedule to come back 'home' and say hello.
I got sent the errand last week when I did exactly what they want the Jenifa star to do now. After years of failing to heed several invitations by the good people of Bariga to come and say hello, I went 'home' last weekend. That was when I got the message to tell Sulia of Aiyetoro not to abandon her own persons o jare.
Anyway, it was not only Funke Akindele who got a 'summon' to visit that day. A host of other Bariga greats also got mention. On the list of people who should urgently go to Bariga and say hello are: Felix Aladesanmi, former Super Eagles winger, Comfort Idika, first and last Female President of National Association of Nigerians Students (NANS), Taribo West, Genevieve Nnaji, Segun Maiyegun and many others. I don do my own o.