I'd fallen in love with Orlando's music before I met him in Alagbon – Aunty Ayo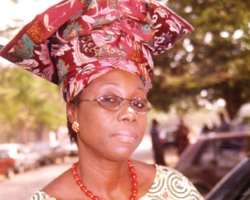 Ayodele Fadairo was, until last week, the Assistant Commissioner of Police in charge of Administration in the Lagos State Command. She came into the limelight when the late highlife maestro, Orlando Owoh, sang her praise as 'Aunty Ayo in Alagbon' in an album he waxed to reflect his ordeal in detention. She tells ADEOLA BALOGUN and AYODELE ALE the kind of interaction he had with the late musician and how she rose through the ranks to become a highly visible face in the police.
You retired from the police
force only last week as an
Assistant Commissioner of
Police. Did you really plan to become a police officer?
To be honest, I would say no. I didn't know that God would elevate me to that stage. I didn't expect it. Even when I was told that my name was one of those shortlisted for promotion to the rank of assistant commissioner of police, I said I would not believe until I had seen the letter. I didn't take it seriously until I got the letter and discovered that I had actually been promoted to that rank. Then, I was serving with the State CID, Panti, and I was in charge of administration. That day, I was shouting hallelujah all over the place. I was very happy.
Many people believe that a woman can earn promotion to your level in the police only on merit. Would you say your own case was different?
I want to say with modesty that God knows that I deserved it. I got to the rank through hard work. I want to say that through the grace of God Almighty, He rewarded me. Because when you look at where I was coming from, I would not exactly say that I could get it. But God saw all that I had put into the job, and He knew that I was doing it without holding anything back. With all modesty, I think God gave it to me because I deserved it.
Why did you join the police?
I was motivated by a group of police women I saw years back in Ibadan, wearing black and white uniform and looking very smart. At that time, I went on an errand to somewhere in Mokola, and I found myself looking at them and dreaming that I would like to be like them one day. When I got back home, I mentioned it to my father. Later, my father, of blessed memory, probably he prayed over it, encouraged me to join the police. In fact, when I had forgotten about it, he was the one that came to tell me about a recruitment exercise that was going on in Eleyele (Ibadan), and he asked me to go there the next day. Even at that time, I was no longer interested because I thought I had grown and should be able to decide for myself. I was in Primary Three when I encountered the police women. But having gone through school with a lot of counselling, I had my mind elsewhere. But my father said because I had said I was interested in the police, I must go for it. In fact, it got to a point that my father threatened to disown me if I stuck to my gun. I was very close to my father because I lost my mother very early in life. Probably, it had been revealed to him that I would make a headway in the police. I wouldn't know, but he did everything to encourage me. He took me to Eleyele himself and I was taken in spite of the huge crowd.
That means you joined the police from the lowest rank?
Of course, I joined as a recruit.
What efforts did you make to get yourself elevated?
You know, without God, nothing can happen. There is no path that is 100 per cent smooth. And if we say we don't have hindering forces on our way, we will just be deceiving ourselves. But maybe God knew He was going to take me this far, because I was just a small girl. After my training, I was posted to Ibadan for nine months before I came back to Lagos during FESTAC 77. All along, before I joined the force, I had always wanted to further my education. I wanted to go to the university but my father was not buoyant enough. In fact, that was one of the reasons I had to join the force. And because of the mindset, I was still in Obalende Barrack then in 1978 with a friend of mine, I enrolled for English Language to complete my (School Certificate) papers. After I had made it, I applied to Yaba College of Technology and secured admission in 1979 to study Secretarial Studies. A lot of people came to my aid, because it was not easy to get the money. And by the grace of God, I obtained OND and HND in Secretarial Studies.
With the qualifications, did it not occur to you to leave the force and seek employment elsewhere?
No, it didn't. After I finished my course, I came back to the force fully. I was made the secretary to one of the commissioners in charge of the CID then in 1984.
People got to know about you through one of the songs of the late highlife musician, Orlando Owoh. How did you meet him?
After I left the CID as the secretary to the commissioner, I was posted to Iponri, where I worked with the present governor of Oyo State, Adebayo Alao-Akala. Later, my father in Christ, Mr. Chris Omeben, took me to Force CID, Alagbon. I wasn't supposed to work with him because they were only entitled to civilian secretaries, but he singled me out of the lot. In fact, he wrote a very strong recommendation for me to be promoted from an inspector to ASP. It was then that Orlando came to Alagbon, where he met me. I am sure everybody knows why he was arrested and detained. Meanwhile, I happened to be a lover of his music even before I met him. His music inspires me a lot. So, when I learnt that he was in Alagbon, I was eager to meet him. They were bringing him together with others to meet the DIG and they were meeting me. That was how we became close. I would counsel him on why he had to leave drug and all that. I was of little assistance to him during his stay as well. I remember him telling me that it was a pity that he did not meet me before his problem. He said he probably would have adopted me as a sister or someone to counsel him. We became close and he was very fond of me. I used the opportunity to tell him that the drug he was allegedly accused of was not good for his health and that those of us who were lovers of his music would not like anything to happen to him.
Was there anything to show that he took your advice?
At that time, he stopped. You know he went through a lot. Maybe he didn't know what was waiting for him. He came to Alagbon with the impression that some big guns would intervene and in no time he would be left off the hook without any seriuos investigation. But the crop of policemen we had then were people of high integrity, and they were determined to unravel the circumstances of his case. He took my advice for some time. Maybe he later derailed.
Did you expect him to sing your praise in one of his records as he later did? And what was your reaction to it?
Oh, I didn't expect him to do that at all. You know, as a serving officer, you are not expected to get involved in things like that because of the nature of the job we do. As detectives, we need to get information, and we were not expected to be loud in any way. So, I didn't expect him to do that. He shouldn't have done that. He didn't discuss that with me. I was only doing the little I could do to help him. When my attention was drawn to the fact that Orlando in his record detailing his experience in Alagbon mentioned my name, I was scared stiff. As a police officer, we were told at the college the kind of things we must not be involved in; like getting involved in music or going on strike. It quite unsettled me because I didn't know what the outcome could be.
Were you queried?
I was not queried. I was never queried.
Are you also saying you were never queried as a police officer?
To the glory of God Almighty, I left the force without a single query or orderly room trial after 35 years in service. Orderly room is for the junior rank, while query is for senior officers.
Was it that you never had any distracting challenges, particularly as a woman?
Well, I am not a perfect human being, but God has been too kind to me. Even when I had one or two issues, which did not involve me directly, He was always been my pillar. Even when I was on peace mission and had issues, God was there for me. I was twice on peace mission to Kosovo and Ivory Coast, where I spent one year each. In Kosovo, I was a team leader in one of the detention centres, and there was an issue where an inmate escaped. My boss then, who was a Swedish, happened to be someone interested in my sense of dedication and hard work. So, when the incident happened, I was asked to state my own side of the story. I was worried and prayed to God to consider my dedication to the job and see me through. God was very kind and the inmate was captured again. What I am trying to say is that for a very long time, I was married to my job and was always avoiding anything that could earn me a query.
It is not every man that would want to marry a police woman. What was the attraction?
There are a lot of police women who are married to civilians, so my own was not an exception. I am sure those who did would have their own individual reasons for doing so. It is very important that one has an understanding husband. If you have an understanding husband who supports you, definitely, the sky will be your limit. As a woman, you should make sure your job does not clash with your home and vice versa. I hardly have time for anything like party, because I spend time at my job and I know that I have to spend time at home too. I am a very homely person. I cook a lot.
We live in a male dominated society where women are treated with disdain. In your own case, did you experience such hostility from men?
No. Do you know why? The men themselves knew that I knew the job and was doing it the way it should be done. Men will look down on you when they see you as someone who does not know the job. Nobody challenged me or questioned my competence, because the men knew that I was as qualified as any other person.
What are you retiring to?
I am still praying to God to give me a direction. But I need to rest.