NIGERIA'S FUTURE BRIGHT – KANU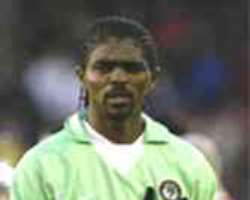 Kanu Nwakwo
Super Eagles captain Nwankwo Kanu believes Nigeria has a bright future in terms of development.
The Portsmouth forward, who had just penned a new deal with his club, told CNN on Thursday that foreigners had a wrong and negative perception of Nigeria.
He said, 'I think that every developing country keeps on developing. For a lot of years now, Nigeria has been growing and developing in terms of infrastructure and communications and it keeps growing. I think people are putting their heads together and trying to make things get better in the country. For me, it's getting better year by year.
'The sky is the limit (for Nigeria). The future is bright. We have 150 million people and the way we are developing, I think the future is there for the younger generation who are coming up. The opportunities are there and the future is bright.
'People are always afraid of Nigeria and I don't think that idea of Nigeria is right or true. People can go and enjoy Nigeria, it's a very good and lovely country and we have good people with very good hearts who can welcome you.'