I love Yemi Blaq - Director of Ghana's Hollywood Film says.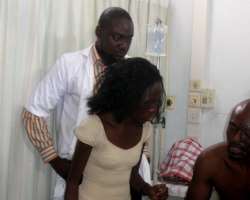 For the next couple of weeks, I will be bringing you interviews with cast and crew of the up coming movie Sinking Sands, which has the support of the Film and Video Workshop Column of Nigeria Films.
Today, I bring you excerpts of my phone conversation with the movies director. A woman I am very proud to call friend. The African Movie Academy Award Nominated, World-Fest Platinum Award winning and, Savannah College of Art Artistic Honors Recognition Recipient, Miss Leila Jewel Djansi.
Good-morning Leila
LD: Good Morning Joy. How are you?
Joy: I am wonderful. Thanks for taking my call so early.
LD: That's no problem. It's for a good cause.
Joy: Why Sinking Sands?
LD: (giggles) I don't understand? Why did I make it?
Joy: why did you call it that? What's the motive behind the title?
LD: oh. Well. It's the little unexpected things that trip you. Elements of life that drag you under.
Joy: I read the script in less than two hours when you sent it to me. I could not put it down.
LD: I am glad. I'm always nervous about my work.
Joy: it was a masterpiece. Have you seen a cut of the film yet?
LD: yeah. I have been sitting with the editor in the past week.
Joy: did it turn out like the script? The way you imagined it?
LD: 90%. Actors bring their own menu sometimes. And I like them to. So we had a bit of directional influences from the actors. Especially Jimmy who was a very great person to work with. Then Doris Sackitey also, we altered her character a bit. It turned out great.
Joy; It was an elaborate production. Building sets and all that, are you proud yet?
LD: Oh gosh. I never am. I am never satisfied with my work. I don't like to be over confident.
Joy: But are you happy?
LD: I am nervous to be honest with you. I sent the first cut to my critics and everyone was upset. Angry at the situation in the story. Even I was upset after watching it. I did not expect so much pain. The lingering question is why? Why did this have to happen? It makes you so mad. And that kinda worries me. Do you want your audience to leave with a happy ending or with a tragic ending? Pain lingers.
Joy: I can identify with you. The script I read made me angry. It was so dark. Please, let me ask you. Where did you get the fortitude to write such a dark story? It's such a bitter story. Did something happen to you?
LD: (laughs) You make me remember when I met our 1st AC in D.C. she'd read the script on the train coming to meet me. The first thing she asked me was what the heck happened to you woman!! That was funny. Well, truthfully, it is a personal story. I was burned as a child in a freak accident. I have an ugly scar on my shoulder. For years I never wore sleeveless clothes. I still don't if I can help it. For years I blamed one of my sisters for the accident. And we are not close, never been for so many years.
Joy: Now it makes sense. Why did you write it into a story?
LD: I went shopping with a friend and I tried on this cute sleeveless dress and she thought I should get it. I showed her the scar and said no, I'd be embarrassed to wear it. she gave me this you are some drama queen look and asked what if the scar were on my face, would I stop living? That question left me wondering about the years when I did stop living because I had a scar. Then you think about the emotional scars other people have and how its stopped them from living. From there it became a story.
Joy: so who are you? Pabi or Jimah?
Ld: Both. This is why the story leaves you angry because it leaves questions of forgiveness un-answered. Should I forgive? Was it someone's fault? Do you blame someone for an accident? Who do you blame in an accident? Which is harder to bear? The emotional scar or the physical scar? Whose side do you take? Is there a reason to abuse? It's a tough movie.
Joy: you know in Ghana we say you should not blame the stone that makes you fall but rather the person who pushed you.
LD: yeah. You could relate that. I guess. To an extent at least. It confuses me a little.
Joy: well the idea is that you should blame the reason behind the accident, not the accident.
LD: I doubt its that literal. Sorry. It's too early in the morning for me to digest proverbs. (Laughing)
Joy: why would you leave questions un-answered? Are conflicts not meant to be resolved in film?
LD: Not always. I wanted to leave room for debate. There is a certain subtle resolution though. You have to pay attention to detect it. Its unspoken.
Joy: Do you feel any type of personal liberation after writing and directing the story?
LD: yes. Yes. It was healing. There is nothing that will stop me from living life to the fullest. Most important I learned from Jimahs character is that if you do not let go and forgive, you hate so much, you end up hating yourself thinking you hate the other person. No matter the physical or emotional scar, what I intend to remember is that Gods strength is made perfect in me when mine is gone. Take a deep breath and face world.

Joy: alright. That was inspirational. I can hear you tearing up.
LD: (laughs) it's good to cry once in a while. It takes a lot to write or open up about your weaknesses and overcome them in the process you know.
Joy: How was it like making the film in Ghana after all the drama of I sing of a well?
LD: I was not thinking of I sing of a well. Sinking Sands was demanding. Extremely demanding. It is hard to shoot in Ghana. Equipment, human resources, skills, we lack these things. People simply have titles. They do not know what that title is for. But we tried. I had a good support team. We pushed and pushed until we got it. It was a happy period. I thank God for that.
Joy: you worked for the first time with a Nigerian actor, Yemi Blaq. How was that like?
LD: Oh, I love Yemi. I love him. He is funny, he is kind, naughty, has a great sense of humor and work ethic. He has this flavor and frankly so far he is the icing on the cake of this film, as Yemi and as Dr. Zach, his character.
Joy: Will you work with him again?
LD: In a heartbeat.
Joy: Will you work with any other Nigerian actors?
LD: Oh yes. I kinda like some Nigerian movies. And I am in talks with a Nigerian actress for the next film. I am pretty sure we will be working with her.
Joy: who if I may ask?
LD: I won't say. It's too premature. The next thing you writers will start falling over each other to talk to her.
Joy: you know that is how we pay our bills. Why did you cast an unproven actress like Ama K?
LD: un-proven actress. That's funny. She proved to me that she was right for the role. I took the chance and I am happy I did. I really doubt I'd have found any other actress who'd have gone the extent Ama went for this film and delivered what she did.
Joy: Working with a Hollywood star, shooting Ghana's Hollywood blockbuster. How does that feel?
LD: ahhhh. You guys and Hollywood. Well working with name brands Like Jimmy Jean Louis can be a bit tricky. But Jimmy I have worked with before and he is a brother. Very supportive and does not want you to pamper him. Very laid back and down to earth. You get him his corn and he is good to go! (laughs)
Joy: corn?
LD: oh yeah. Roasted corn. Jimmy is adorable. Great actor, great guy.
Joy: so everyone says this is the highest budget movie ever shot in Ghana. 7 figure budget. How do you feel to be the happening woman in Ghana Film industry? Your name is everywhere.
LD: it's not exactly seven figures. Please. Don't send armed robbers to my house! It's is little under seven figures. I don't like to talk about the budget because it gives me sleepless nights.
Joy: making it back?
LD: making it back.
Joy: That is why we are here. Any festivals?
LD: I guess so. We have received numerous invitations from festivals all over the world. The distributor has control over all of that. But yes, it will start festival rounds.
Joy: when do we see it on DVD?
LD: Not anytime soon. Better catch it in Ghana in November or wait for a while. Summer next year I believe.
Joy: Since I am in Ghana, I hope I am getting a VVIP ticket.
LD: by all means.
Joy: Thank you so much for talking to me as always.
LD: thank you more.
If you are in Ghana, Sinking Sands premieres at the national Theater on the 13th of November 2010. It comes to Nigeria in December, look out for the dates.
Up next: Yemi Blaq, Ama K Abebrese.