EDUCATION MINISTER GIVES STATES ULTIMATUM TO SUBMIT DATA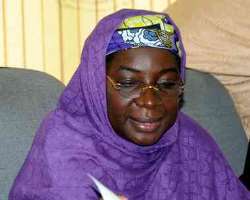 Education Minister, Prof. Ruqquayat Ahmed-Rufai
The Minister of Education, Prof. Ruqayyatu Rufa'i, has given state ministries of education two weeks within which to complete and submit the 2009-2010 annual school census data.
Rufa' i gave the deadline at a meeting with state commissioners for education in Abuja on Thursday.
She described Nigeria's lack of reliable education data as an international embarrassment.
The minister noted that accurate data was required for decision-making and efficient allocation of resources, saying that it was regrettable that Nigeria was lagging behind in the provision of reliable and sufficient school-based data in its education system.
She lamented that obtaining accurate data appeared to be an almost impossible task in Nigeria, saying that for several years, the national educational management system had failed to perform.
The minister attributed this to inadequate funding, weak capacity, poor infrastructure, skewed incentives and poor management of the annual school census results.
According to the minister, 'Nigeria faces embarrassment internationally because we are unable to provide information on our education sector to the comity of nations.'
She noted that the National Council of Education had since 2007 decentralised data collection empowering states to collate.
On its part, the federal ministry has renewed its commitment to evidence-based planning aimed at ensuring goals set for the education sector in the Vision 20:2020 were achieved.