NO FRESH FUNDS FOR INEC — EKWEREMADU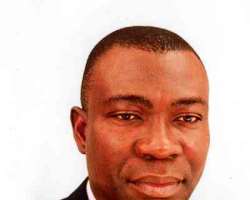 Deputy Senate President, Ike E
The Deputy Senate President, Senate Ike Ekweremadu, on Thursday said the Senate would not approve fresh funds for the Independent National Electoral Commission until it exhausted the N87bn approved for the voter register.
According to Ekweremadu, INEC must first finish the N87bn before it can come for another fund.
Ekweremadu said this during an interview with journalists at the Peoples Democratic Party headquarters in Abuja when he came to visit the scene of fire incident that engulfed the conference room of the party secretariat on Saturday.
Commenting on the N87bn released to the INEC, the deputy senate president said there was nothing wrong with the money.
He said though the commission demanded for N89bn, the National Assembly was able to approve N87bn, saying that the electoral body could request for more money after it had finished spending the approved amount.
He added that as an individual, he had his reservation about the commission's request.
He, however, said that the development did not stop the National Assembly from approving its request as the commission needed to do a good job.
He said, 'They (INEC) wanted N87bn and we approved it. Even though I have reservation about the figure, but we need to support them to do a good job. We hope that INEC will apply the money appropriately.
'The electoral body brought 89bn while N87bn was approved, so that is no problem.
'But let the body finish the N87bn first before it can come for another one.'
On the controversy over the amendments made to the 1999 Constitution, Ekweremadu said the document had become operational in the country.
According to him, only the court can set aside the constitution as amended, adding that in the absence of this, Nigerians are bound to abide by the new constitution.
Controversy has continued to trail the propriety of whether or not the assent of President Goodluck Jonathan is required before the amendments can become law.
The Trustees of the Nigerian Bar Association, former President of the NBA, Mr. Olisa Agbokoba (SAN), and two Lagos-based lawyers, Mr. Femi Falana and Mr. Bamidele Aturu had filed legal actions over the issue.
But Ekweremadu said, 'The amendment is operational. Until they (the opponents of the amendment) seek legal interpretation, the amendment has become operational.
'See, our business is to make laws and once those laws are made, we become what is called funtus officio.
'So the law is operational until it is set aside by the court. We are not going to worry ourselves about that. As far as we are concerned, we have done our job.
'If anybody thinks otherwise, he is free to go to court and until the court makes pronouncement on it, that (the amendment constitution) is law and that is what Nigerians will obey.'