"It's Their Chance to Learn from a Modern Legend" – 2Face Idibia on MTN Project Fame West Africa This Week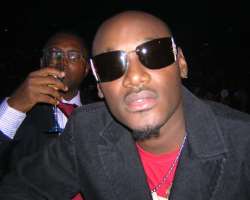 Nigerian superstar, 2Face Idibia is the next celebrity to grace the third season of MTN Project Fame West Africa. The talented music export will join the list of recording artistes that have featured in Project Fame including Asa, Samini, Yinka Davies and Onyeka Onwenu.
2Face is scheduled to visit the contestants in the Performance Academy on Thursday, September 2. During his visit he will be on hand to mentor the contestants as well as motivate and rehearse with them. Being one of Nigeria's most successful recording artistes, 2Face Idibia possesses a wealth of experience that only a select few can claim. With such experience under his belt, he is the appropriate artiste to motivate and mentor the contestants into becoming better performers and recording artistes.
And on Saturday, September 4, two weeks before he clocks 35, he will have the honour of being a guest/celebrity judge on the show. As the contestants will be performing most of his hit tracks such as African Queen, Only Me, True Love, One Love and others, he will be on hand to assess, evaluate and criticize their performance. After their performances he will end a show by performing for the millions of Project Fame fans who will no doubt be watching the show.
2Face Idibia, 34 was part of the R and B group, Plantashun Boyz that broke into the industry in the late 90's. One of the earliest hits they featured on was "Omode Meta Sere" by Tony Tetuila. Based on the popularity of the song and the success of their debut album, they became one of Nigeria's talented acts. The group which consisted of Black Face, Faze and 2Face later went their separate ways a few years later.
In 2004, 2Face Idibia, released his debut album "Face to Face". The album was success and boasted of major hits such as the classic African Queen and Mfana Ibaga. As a result of the runaway success of the album he won the Best African Act in the MTV Europe Awards 2005 making him the first among his contemporaries to win a major international award. So successful was he that he was given a Special Recognition Award at the maiden edition of the Hip Hop World Awards in 2006, a rarity for an artiste who had just released his first album.
Now armed with four full albums, Mr. Idibia has become a bonafide bestselling act, and an icon of contemporary pop culture. Travelling day and night across scores of cities across the world, he is an ambassador of modern Nigerian music, and a genuine candidate for mainstream international break.
"I understand how it is to be in a show like MTN Project Fame. I remember my days as an unsure upcoming artiste, and I'm happy to have an opportunity to mingle with the contestants and spend some time making music with them" Idibia said
Despite the catastrophic fire incident on Sunday, August 22, 2010, the organizers of Project Fame have insisted that "the show goes on", and true to their words, the show continued with Helen and Vwede leaving the academy last Saturday. Seven days after the inferno, the PFWA recording went on unperturbed with veteran singer- song writer Onyeka Onwenu joining the judges and contestants to deliver one of this season's most memorable episodes yet
"We are glad to have 2face on the show, these talents look up to him, they want to be like him, and it is a good way to make them feel the excitement and promise in store" Femi Ayeni of Ultima studios says
Tolu, Chidinma, Adebola, Rhoda, Eyo, Ochuko, Joecilia, Yetunde, Christian and Kesse will yet again continue in the contest, To keep your favourite contestant in the competition, just send his or her number to 306. Your vote, might just be the one to put them in the competition.
**
Project Fame West Africa has been awesome this season! If you havent been watching you need to start now!
On another note, cannot believe that 2Face is 35!