JONATHAN'S ENDORSEMENT: S'WEST PDP LEADERS ON THEIR OWN – GBOLARUNMI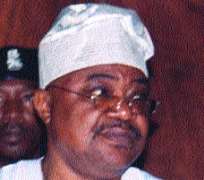 Former Deputy Governor of Oyo State and the South-West Coordinator of IBB for President 2011, Alhaji Hazeem Gbolarunmi yesterday thumbed down the endorsement of President Goodluck Jonathan by the stakeholders of the Peoples Democratic Party (PDP) in the South-West.
'The leaders are on their own and their position does not represent the true wish of the people of the South-West,' he said. Gbolarunmi described the endorsement of President Jonathan as a political gimmick designed by some leaders of the party to force their wishes down the throat of members and the people of the South-West, since according to him, 'not all the stakeholders of the party were consulted before making the pronouncement.'
Specifically, he accused former President Olusegun Obasanjo of being the brain behind the move, stressing that the plot, if unchecked now, was capable of re-enacting his infamous 'do or die' politics of 2007.
The former deputy governor during the eleven months administration of Governor Adebayo Alao-Akala in 2006, while speaking with journalists at his Bodija, Ibadan residence said: 'I can authoritatively say that not all those at the meeting last Saturday were aware of what was going to be the agenda until they were 'forced' into making that political blunder.'
He stated further that the move was an 'ungodly' ventures going by the existing zoning arrangement in the party, which he noted made the former president to rule for eight years. 'Aside that, these people have made a serious political blunder by the endorsement. The man in question has not come out to declare his intention to contest; what if the man says he is not going to contest again,' he noted.