EX-OBJ AIDE TACKLES RADIO STATION OVER FAKE PROMO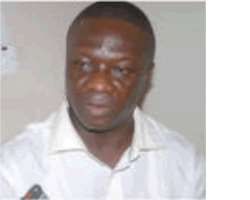 When he got a phone call from a privately-owned radio station that he had won a trip to South Africa for the finals of the 2010 World Cup, he was delighted. So when 96.9 Cool FM, Abuja, summoned him to its studios for a live programme to testify to the genuineness of the promo, Mr. Jessie Obinali, a former presidential aide, did not see anything wrong with that.
Now, almost two months after the fiesta, Obinali is at daggers-drawn with the radio station. Not only for allegedly deceiving him, but also for using him to deceive many others when he testified on air that what turned out to be a grand hoax was genuine. The former Special Assistant to ex-President Olusegun Obasanjo is already a legal action against the station for giving him what he described as a fake air ticket to South Africa.
It is a story of trust gone awry.
Prior to Nigeria 's first match in the competition, which was against Argentina, Cool FM had embarked on a promo termed 'Predict and Win.' Listeners were asked to predict, with a promise that those who successfully did would be rewarded with an all expenses paid trip to South Africa for the final match. Obinali got his prediction right and was promptly called by Cool FM to come over for other formalities ahead of his trip to South Africa. Things went soar at some point and his dream of watching the match was dashed.
Obinali recalled how his hope was raised when he got a phone call from the radio station:  'I was excited. Before then, they spoke to me and said that they were going to take me on air live. They said I should show my excitement and how happy I was as the winner of Predict and Win promo. When I screamed and showed my excitement, it was taken live and they said I should come to the station the following day. We went on air, and I did all that they told me to do. I told listeners that they should go ahead and text as many times as possible.'
After a few days, Obinali was informed that his ticket to South Africa , match tickets, and hotel reservation were ready. He was given photocopies of those documents which he showed to Daily Sun and asked to go to the South African Embassy to process the visa himself: 'They asked me if I had a passport, and a bank account because I needed to submit all these to the embassy. I took all these materials and went to the embassy. The funny thing is, they said that I should process my visa myself and that there is no way that it can be done within a week.'
He said he kept reminding the station manager, one Sophie Tarfa, until it was two weeks to their planned departure. Tarfa, he added, kept telling him that he would be called at the appropriate time. By the time she gave him the materials, it was about three days to the supposed departure date.
But a shocker awaited him at the South African Embassy: 'When I went to the embassy, they looked at all the materials that I brought. First of all, they said that the match ticket wasn't a real one. That I needed to clarify the flight ticket that they gave me which was time-bound. I got the materials three days to departure, and they needed at least five days to process the visa. They told me that there was no way that they could process the visa in three days. I went back to them and complained that they gave me the materials late, and there was no way that I could get the visa.
'The manager (Tarfa) told me that she was just taking instructions from her boss who was in Lagos. I said you have to compensate me because I have already gone on air to tell people how good and real you are, and you have used me to make money. I discussed this with her, and she said all she could do was to relay it to her boss, and she would contact me. 'I kept calling her, but her phone was off. I decided to take a step further by going to the Ethiopian Airline, because they are representatives of South African Airline, to crosscheck the authenticity of the tickets. They told me that the tickets were fake.'
Obinali said he started having some funny feeling when they 'were asking me if I had a passport and a regular bank account. I know that all these service providers send people to the UK but they facilitate the visa, and they do everything themselves. In this case, they said I should get the visa myself. It was okay with me as I just needed the documents so that I would have enough time to process it. Then they started delaying until when it became too late.'
However, Tarfa denied that Obinali was given fake documents. As an organization, she said, Cool FM would not issue visas to anybody. She said that the issue of visas is a responsibility of the embassy, and was outside the terms of the agreement. She, agreed that documents were given to him late, but also absolved her organization of blame. She argued that the World Cup tickets were sold out two weeks before the end of the promo: 'Because Cool FM had a deal with the Federation of International Football Association (FIFA), Cool FM was able to obtain a ticket for him.
'Talking about the World Cup promo, what the promo said was that we were going to give the winner a return ticket to South Africa with any person of their choice, with accommodation and tickets to the games, which we did.  When the promo was over which was two weeks to the World Cup itself, we had a deal with our personal company that was sponsoring and FIFA because the World Cup tickets were already off-line and were sold out.
'Nobody gave him a fake document. What the South African Embassy told him was that the time was too short. If he sends it back to South Africa, it means that the visa is not for the World Cup. The World Cup is on the weekend, and the visa will be ready the following week.' ?Tarfa ruled out any compensation for the aggrieved man. She pointed out that the terms of agreement did not provide for that, but only made allowance for those documents which were given to him.