PETE EDOCHIE HITS OLU JACOBS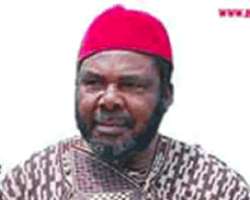 Edochie
This is definitely a clash of 'the Titans'. Nollywood veterans, Olu Jacobs and Pete Edochie are at loggerheads with each other. The genesis of their feud is an interview Edochie granted in which he claimed Olu Jacobs was destroying Igbo tradition with the way he portrays 'the Igwe' in his movies.
In another interview he granted another daily paper which was on the internet, Edochie said Olu Jacobs should not be playing the Igwe in any movie, because he doesn't understand the culture and tradition of the Igbo. When asked about Nollywood, the respected actor said 'The people who are making movies are children and most of them are unintelligent.
The person who is playing the Igwe role in all the movies these days is Olu Jacobs. He is not an Igbo man. Simply stated, he does not understand why somebody who does not speak the Igbo language, who does not understand the culture, the mind and the psychology of a people should be the one playing that role.
This is the reason why the role is not being properly interpreted. Have you ever seen a woman beside an Emir? But I watched a movie in which people had to help hold Olu Jacobs' wife in the movie and he basically raped her , because she refused to have sex with him and he was supposed to be the Igwe in the film. That is an absolute insult to the traditional stools of the Igbo people. If he knew better, he could have advised the producers of such a movie or should never have even taken part in it at all'.
When the reporter reminded Edochie that he too had acted in a non- Ibo movie (especially an Hausa film), Edochie said he grew up in the north. Said he 'I was part of the movie, Amina, but that was different, because I grew up in the North and I understand the culture very well. You have to know a people to understand them. You also have to understand the appurtenances of office they occupy before you can mimick them'.