Jonathan, Sambo, Nwodo In Abia As Theodore Orji Returns To PDP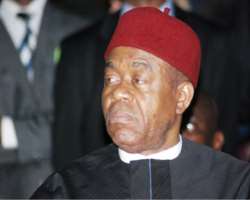 PHOTO: ABIA STATE GOVERNOR, MR THEODORE ORJI.

UMUAHIA, August 28, (THEWILL) - President Goodluck Jonathan and his Vice, Namadi Sambo today joined the Peoples Democratic Party (PDP) National Chairman, Dr. Okwesilieze Nwodo in Umuahia, Abia State Capital to welcome back their "lost son", Governor of Abia State, Theodore Orji back to the PDP fold.
The development is a result of a 2-month negotiation led by Dr. Nwodo and some national officers to woo Orji back to the PDP family who was hitherto in the Peoples Progressive Alliance (PPA). The Governor's return to the PDP also saw the entire members of the Abia State House of Assembly joining returning to the party, a move that elicited the national chairman, Dr. Nwodo into a joyous mood, culminating in his singing the PDP solidarity song chorused by the entire crowd including party stalwarts.
Speaking at the occasion, President Jonathan praised the "Abians" for their hardwork, diligence and commitment to business, stressing that they are the most hardworking people in the whole of Nigeria.
He reiterated his administration's commitment to free and fair election and enjoined Abia people to guard their votes jealously as that would indeed be their power at the polls. He called on the people to support the governor in order to benefit from the dividends of democracy.
Dr. Nwodo who spoke at the occasion could not hide his joy because of the dramatic return of Theodore Orji and all the members of the state House of Assembly including top party officials in the state.
On his part, the returnee Governor, Orji said it was good to return home because according to him "there is no place like home" and expressed happiness that it was a dawn of a new era in the Abia PDP.
The Project to get Orji back to PDP was executed by Nwodo, National Vice Chairman of PDP South East, Olisa Metuh; Emeka Ihedioha, member of the House of Reps; and Ebonyi State Governor, Mr. Martin Elechi.
Orji, amongst his request to join the PDP was the dissolution of the state Chapter which has been done and it will now be the turn of Orji to grant PDP's request by conceding 60 percent of the cabinet among other demands.