I DON'T SMOKE IGBO BUT I LOVE ITS AROMA – ORIGINAL STEREOMAN EKWE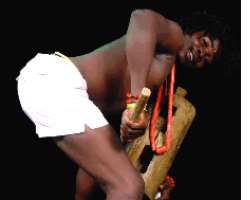 Original Ekwe
For Sunday Osakuni popularly known as Ekwe Originnal Stereoma, there is always something to celebrate. Indeed, there is no dull moment in his household as everyday is like Christmas. 'Dining and wining is a regular occurrence in my household,' he says.
Of course, looking back at the tough road he took to fame and fortune, the musician has every cause to celebrate. Here, he opens up to Blockbuster on his life, career, family and other issues.
Growing up
I was very stubborn when growing up. I grew up in Warri and you know that Warri is tough. There, everybody wants to make money overnight, children inclusive. Everyone wants to wear good clothes and live good life without working for it. I attended four different primary schools and four different secondary schools. After staying in a secondary school for some time, some of us would say, 'this school no dey size us again o', then we will leave for another one. I was very stubborn but as time went by, I talked to myself and I changed.
Starting out
I started music in 1984 in Onitsha. In those days, we used to do demos with only keyboard, drumbeat and stuffs like that. In 1987, I became a Rastaman.
I started with cultural music, moved to pop, and then to roots rock reggae. When I came to Lagos, I started playing ragamuffin but discovered that everybody in Ajegunle was playing the same thing. So, I decided to do my own thing in my own style. I began to infuse my native language, my own style and beats. I wanted to give it a Niger-Delta outlook. And ekwe, the wooden gong came in. And that was it.
Road to success
I schooled in Lagos and Delta states. I ended my education at O' levels. It was not easy for our mother alone to sponsor us further. So, when I came to Lagos, I started hustling by doing menial jobs. I washed cars, did bricklaying and tailoring and by hitting it here and there, I was able to raise money for my album. I always believe in myself. I believe in African tradition. My grandfather brought the biggest mmanwu, a tall masquerade to our town and so my family believes in the culture of the land very well. I said to myself, if my fathers were successful with mmanwu and ekwe, why not me? So, I decided to call my own style, ekwe. What I've done is to infuse the drum into ragamuffin beats.
The break
Having a musical break wasn't easy. I started far back in my village, Igbako Kingdom in Ndokwa East LGA of Delta State. From there, I went to sojourn in Warri before coming to Lagos. We started doing music there, and after going through lots of challenges, we survived. My first demo CD was done with a keyboard. There were no digital studios as you have them now. If you don't know how to sing, nobody would record you. But it is no longer so, today they can stimulate your voice and give you a label.
New album
I have two albums in the market, Sample Ekwe and Come Back Again. I am now running my own label, 'Angle 90 Records'. I have a plan to release a new album this year. I am going on tour very soon and when I come back I will release the album.
The dreadlocks
I did several types of hairstyles in the past. But after my debut album, I decided to keep my dreadlocks. I initially plaited my hair and later decided to lock it. I wanted to look like a real African man.
On Nigerian music
We thank God that today people are beginning to appreciate our style of music. Nigerian music has come to stay. It's not like way back when all you hear in clubs is hip hop. One couldn't play Naija stuff then. But today, even in Europe, our music excels. So, I believe that the future will bring more and more sparks into the industry so that the upcoming ones can shine.
On Timaya
I think the song an artiste did on Timaya is in bad taste. Everybody has their own way of making fame. But I think the song is too direct. If you want to beef someone, you should do it through proverbs and adages. The song is stoo direct and that is the area I don't like in the whole thing.
My wife and I
My wife always calls me 'honey'. It's always like that with women but the man wey dey house naim know wetin dey inside. Woman na woman. They will still misbehave. But what you do is straighten her head up. I call it spiritual coding. You talk to her, advise her, and pet her. I am not too good at womanizing. Elderly musicians have always advised me to be careful about women because, according to them, they have the spirit that could kill my talent. So, I took their advice because they have been there before me. I try to learn from other people's mistakes.
Becoming Glo ambassador
It came on its own. I did not lobby for it. When you work hard, good things must come your way. They invited me to perform at the Glo Rock and Roll concert and after then said they wanted me to be one of their ambassadors. As a Niger-Delta preacher of peace, they made me a peace ambassador.
How I cope with female admirers
Any musician who tells you that women do not contribute to his success is a liar. Women and children love us a lot. They promote us all the time. So, one must be very careful with them. I am not too good at womanising but sometimes I bless them. When the spirit says, 'touch', I touch and bless them. One thing about artistes is that we don't have time to search for a good woman to marry. We are always in the club or on the streets performing. And every woman wants to arrange herself in such a manner that she must get you. But as soon as they get married to you, their true character begins to show.
Artistes with marital problems
The problem of artistes divorcing their spouses is not peculiar to artistes. As a musician, you need a good woman to assist you. If you have a bad woman, you can't think straight, you lose inspiration.
I relax with kparaga
I don't have a specific hangout. Sometimes I stay at home and watch movies. If I am bored, I may go out and take some shekpe and kparaga (local gin) to straighten the brain. I don't smoke igbo (Indian hemp) but I like the aroma. In those shekpe joints, you get inspiration and lots of raw materials for music.
Favourite food
My favourite food is eba. I can eat eba from now till next week, 'nothing dey happen.